Helen Duncan Deserves A Pardon
Prestonpans has been closely associated with the injustices of witchcraft persecutions over the centuries and is now officially hosting a petition for a posthumous pardon to be granted to Helen Duncan ¨C the last woman prosecuted and jailed in 1944 under the Witchcraft Act of 1735. 
The town hit the headlines across the world in 2004 when the 81 local men and women executed for witchcraft in the 16th and 17th centuries were pardoned by the Barons Courts of Prestoungrange and Dolphinstoun.
Every year since 2004 the Pardon requires that a commemorative ceremony for the persecuted ¡®witches¡¯ takes place at the Prestoungrange Gothenburg, the town¡¯s cultural hub and premier pub and restaurant,  where murals have also been created in their honour and remembrance.
This year the ceremony was again led by Mary Martin, the granddaughter of Helen Duncan, which reignited nationwide interest in the Duncan case and the continuing calls for a pardon to be granted to her. Full details can be found at the two links here:
           Remembrance of our 81 Witches and of Helen Duncan - October 29th 2006
           The Guardian Argues Helen Duncan's Case for a Pardon - January 13th 2007
Helen Duncan¡¯s story
Helen Duncan was born in Callender on November 26, 1897. She married a cabinetmaker and had 12 pregnancies, although only six children survived.
The couple moved to Dundee then Edinburgh, with Helen¡¯s reputation as a medium growing all the time.  She made a living by conducting s¨¦ances throughout Britain where the spirits of the dead were alleged to appear, talking and actually touching their relatives.

During the Second World War, Helen lived in Portsmouth, home to the Royal Navy.  There her activities attracted the attention of the establishment, especially when, in 1941, the spirit of a sailor appeared announcing he had just died on a ship called Barham.  The sinking of Barham was not officially announced until several months later, for fear it would damage morale.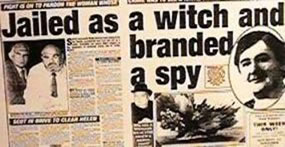 On the 19th January 1944, one of Helen¡¯s s¨¦ances was interrupted by a plain-clothes policeman and a naval lieutenant who arrested Helen and three members of her audience.   It is said that she was arrested because the authorities were worried that she would reveal details of the D-Day landings which were in the final planning stages.
She was charged with conspiracy, which was a hanging offence, but it was later changed to contravening the Witchcraft Act of 1735 by 'pretending to raise the spirits of the dead'. A bid by her lawyers to get Mrs Duncan to perform a s¨¦ance in court was rejected.
A total of 44 witnesses, including a justice of the peace and journalists, spoke in her defence, but she was still found guilty and sentenced to nine months at Holloway.  Even her right to appeal to the House of Lords was refused.
Winston Churchill's Role in the Affair
There are disputed reports that she was visited by Winston Churchill during her time in jail.  It is certainly true that Sir Winston had an interest in spiritualism and that one of his first acts when re-elected in 1951 was to support repeal of the 1735 Witchcraft Act which had caused much unnecessary misery over the centuries.
Helen Duncan¡¯s persecution by officials continued after her release and in 1956 one of her s¨¦ances was again raided by police looking for evidence of fraud.  None was found, but it is said that their rough treatment of Helen while she was still in a trance led directly to her death in Scotland five weeks later, on 6 December.
It's Way Past the Time to Grant Helen Duncan a Pardon
Relatives and supporters of Helen Duncan have long been campaigning for an official pardon which has so far been refused, most recently in 1999 by Jack Straw when he was Home Secretary.   Because she was convicted wholly out-with Prestonpans, her case was clearly not eligible for consideration for the Absolute Pardons granted Barons Courts of Prestoungrange and Dolphinstoun in 2004.
The prosecution and conviction of Helen Duncan under the Witchcraft Act for 'pretending to be a witch' is clearly as much of an injustice as those of the 16th and 17th century ¨C although it did not of course carry a death sentence. The remainder of Helen Duncan's life and the lives of her descendants have been tainted not least in the media by the verdict which was widely regarded as a conviction 'for' witchcraft. How can a modern government fail to recognise the wrong that was done to Helen and her family and grant them a well-deserved posthumous pardon?