Remembrance of our 81 Witches and of Helen Duncan
Mary Martin as Honoured Guest at the Annual Commemoration for the 81 Witches of Prestonpans

As required by Declarator of the Baronial Courts of Prestoungrange and of Dolphinstoun on July 27th 2004, the annual commemoration of the Pardoning of the 81 Witches of Prestonpans was held in the Memorial Garden to the south of The Prestoungange Gothenburg on Sunday October 29th at 2.45 pm.

A large crowd gathered for the ceremony at which the Declarator was recalled by the Baron of Prestoungrange, the Poet Laureate John Lindsay declaimed his Red Lambent Flame
and Andrew Crummy who created the Memorial Garden's artworks as murals which can be seen in the photographs.

Eight players from the Meanwhile Theatre Company currently presenting The Cauldron at the Prestoungrange Gothenburg attended the ceremony also. They are pictured below.

At the conclusion Mary Martin, whose grandmother Helen Duncan was the last person convicted and imprisoned for 9 months under the Witchcraft Act 1735, laid a bouquet of herbs to her grandmother's memory and the memory of all 81 Witches of Prestonpans.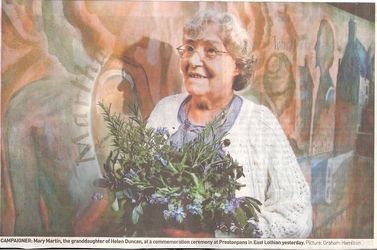 All those present including the actors were then invited to lay a sprig of rosemary taken from the Memorial Garden beneath the roll of names of those wrongly put to death. The eight players each bore one of the names on that roll in The Cauldron

As will be seen from the extensive press cuttings included below, the commemoration ceremony faciliatated extensive media attention for the case of Helen Duncan and it is to be hoped that wise counsel may eventually prevail there as it has for the town's 81 witches. A full and comprehensive background to her conviction was provided in Paranormal Review.com on November 18th 2006


click on all press cuttings below to enlarge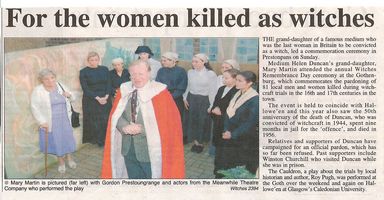 PS re Helen Duncan

Since this year was the 50th Anniversary of the death of Helen Duncan the case for her Pardon received the highest possible media profile, including an Editorial in The Guardian and numerous BBC tv and radio commentaries. By popular consent the Arts Festival resolved to give what additional help it could to Mary Martin, Helen Duncan's grand-daughter, in her campaign for Helen's Pardon. On December 27th a Petition website was included here at the Prestoungrange website, and all those who support Mary Martin are asked to register that support there. The Glasgow Herald and Edinburgh Evening News both reported its launch. And the media in Portsmouth, where Helen Duncan was tried, gave details of the Petition and Helen's death: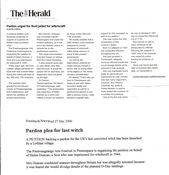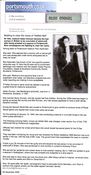 Published Date: October 29th 2006