Auld Fowler's Gate is OPEN Once Again ...
Auld Fowler's Anniversary Was Properly Celebrated!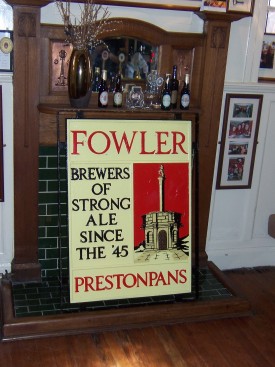 April 21st 2010: Yes, we came to The Gothenburg from 12 noon till 11 pm - as invited. We remembered the demolition a year ago of Auld Fowler's HQ.

There were the regular drinkers and diners of The Goth since 1908; CAMRA supporters of Fowler's Finest Prestonpans Ales; the Chairman of the Community Council [of course]; the former Provost Pat O'Brien who was instrumental in the Goth's Listing; a Westminster Parliamentary candidate on May 6th, Fiona O'Donnell [born just 10 miles from Chemainus at Nanaimo, who knows a Cowichan sweater and totem pole when she sees them]; Poet Laureate John Lindsay ready to recite; Tom Ewing leading the evening's serenades ... and of course principal actors in Lynne Shroder with husband Jim who restored and re-hung the Auld Fowler's Gate; John Greenwood with the Auld HQ's art deco wall clock and its irreplaceable Mercat Cross in linoleum cuts; Miss Blake was with us again, she who worked for many a post-war year in the Auld HQ; and not least Roddy Beveridge who made the Wee Heavy [and the ever popular Porter] which was drunk, and drunk, and drunk again in appropriate half pint measures only.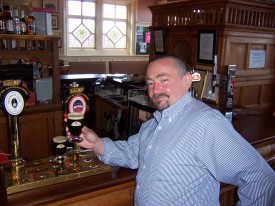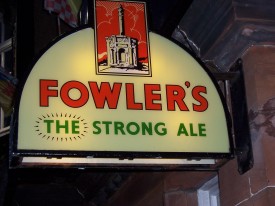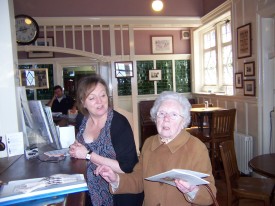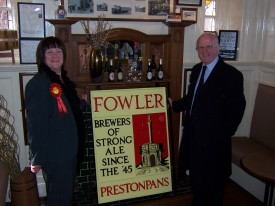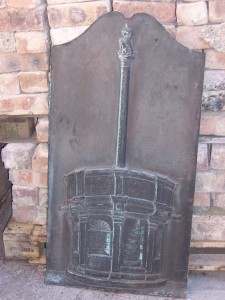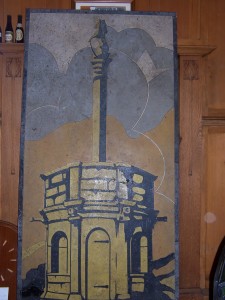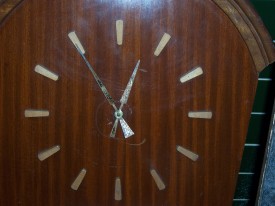 What's all this then?

One man's drinking a pint of Tennant's lager by the look of it and another's cutting an ace. The first is the incorrigable Bob Cunningham whose great great grandfather was Head Brewer at Fowler's who himself only drinks Tennants and the customer is always right then?; and the second tells the story of the day - cut the pack of Fowler's playing cards, get an ace and the Wee Heavie is on the house; cut the joker and you buy a round for the entire bar.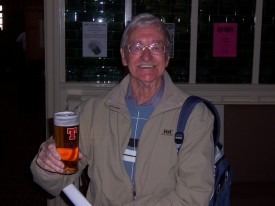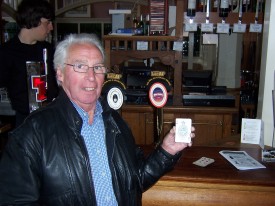 ... and a Fowler's bottle screwtop and bottles too and glasses from Auld Fowler's ....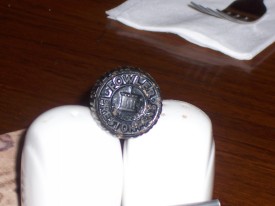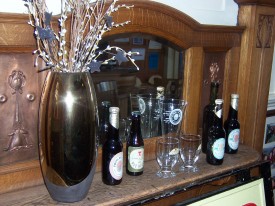 But what of the Auld Fowler's Gate then? Scheduled for 6pm?

Lovingly restored by Lynne Schroder, and hanging once again at The Goth thanks to Lynne and husband Jim's sterling efforts in a cool climate, it now stands in all its glory - hop motif for all to see. The Opening was addressed from the inside where Goth Licensees Carol Black, Andrew Laurie and Anne Taylor [BLT for short] can be seen. And then after the Grand Opening is accomplished, standing happily with Lynne and Jim as well!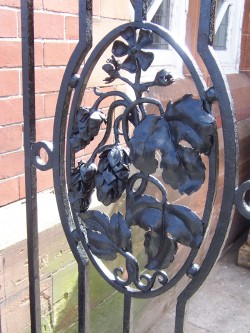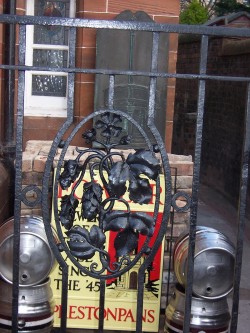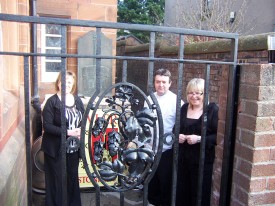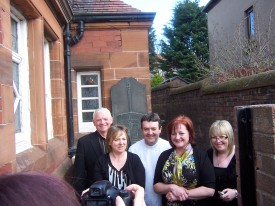 ... and the Poet Laureate Rose to the Occasion - of course!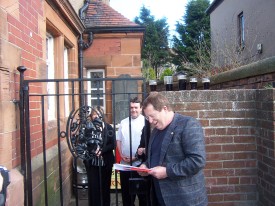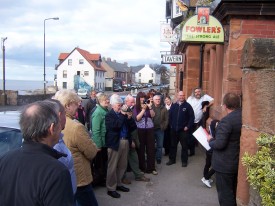 THE BREWER'S GATE

In case we forget
What was and might have been
This iron relic-
Now repaired and cleaned,
Saved from the breaker's yard-
Is portal both to future and to past-
A gate we celebrate
Who try to make tradition last.

Auld Fowlers, where for ages
Workers brewed their beers,
Now lives again in miniature right here,
where folk who care may stand and think :-
"Fowlers is at the Goth now!
Let's go inside and drink!"

John Lindsay April 21st 2010

... although way back in 1839 one Henry Grover had already expressed his sentiments in poetry concerning 'a bottle of John Fowler's Ale' - click to enlarge the words!: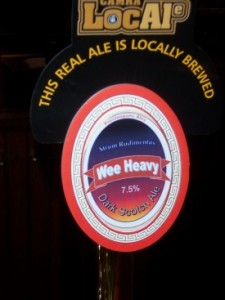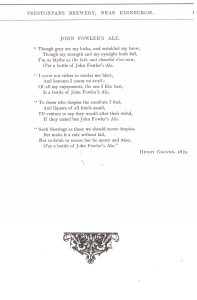 What the papers say!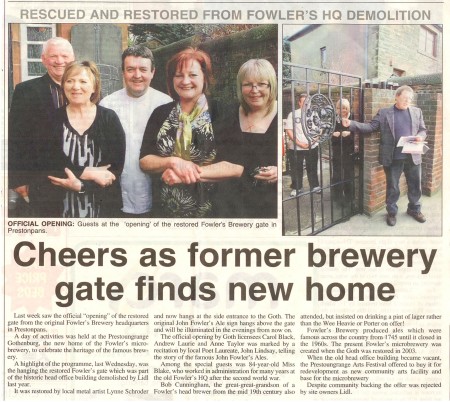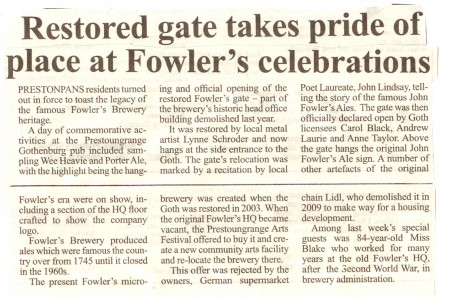 Published Date: April 26th 2010