Besom Tells All - Fowler's Ales Are For the Drinking Again
Iain Turnbull, Head Brewer at Fowler's Ales [Prestoungrange] Limited gave the Pans its own real ale back after 42 years, on his own birthday May 8th. He was aided in the creation of the very first 'Celebration Brew' for May 8th by the august Celebrewty BrewSet shown below.

Click on all images throughout to enlarge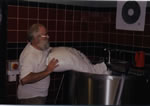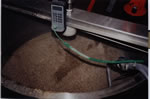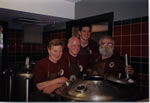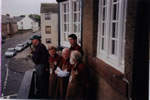 The three Celebs were led by Scotland's just appointed [on May 7th] Rugby Union Captain Scott Murray who, with his father, owned The Gothenburg until 2000. He shared the workload on this occasion with Pat O'Brien, Provost of East Lothian, who had his wedding reception in The Gothenburg nigh on 40 years ago (and has booked his Ruby Celebrations already); and with the Laird of Northfield House in Old Preston, Finlay Lockie, who is working apace on the resoration of his fine home which is one of the architectural treasures of The Pans.

He conducted the ancient ritual of hoisting his Besom (birch broom) from the North Eastern Balcony of The Prestoungrange Gothenburg at 11.45 am precisely, watched by a fine crowd during a sunny break in the clouds.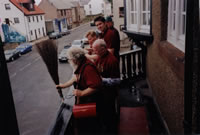 All in the Pans knew what was afoot as did other CAMRA members from afar. More than 150 afficionados of a good pint of real ale responded either to personal invitations, to the cutting from the East Lothian Courier below or to John Smith's High Street Town Crying at Friday lunchtime May 7th [seen hear rehearsing in The Lord Mayor's Bar of course!].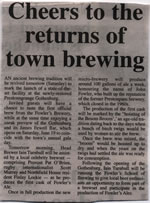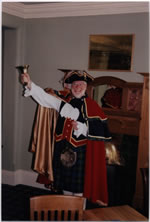 The verdict was unanimous. The 60/-, the 75/- the 85/- and the Head Brewer's own Birthday Special were excellently made; and that The Prestoungrange Gothenburg can expect to see many a thirsty visitor in the years ahead enjoying Fowler's Ales again in the town; just as it should be! The East Lothian Courier caught the moment on May 14th in text and in the photograph below when the Baron of Prestoungrange joined the Head Brewer and the three new Fowler's Fellows for a camera call outside.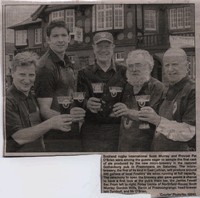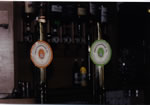 And from May 8th there was no excuse for forgetting just where that Gothenburg is. The covers came off the fine stained glass windows; the old TAVERN sign reappeared above the James Fewell Bar; and The Barons of Dolphinstoun and Prestoungrange Arms swung on high.....you see them looking west and east respectively .. as shown in their fullest splendour below.

Click to enlarge the images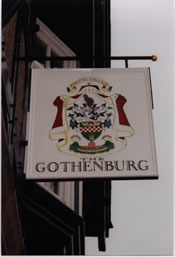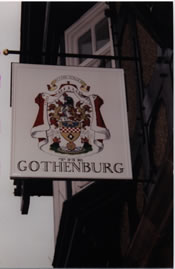 Published Date: May 8th 2004