The Guardian Argues Helen Duncan's Case for a Pardon
Can The Guardian National Feature finally help Helen Duncan's case for a Pardon?

All who have shown concern for the conviction as a Witch of Helen Duncan in the 20th century will be pleased to learn that The Guardian took up the case with a full page national news story on January 13th 2007.

It is also good to report that this latest coverage of the injustice done to Helen Duncan and her family by the shame and abuse it brought on them all at the time has been assisted by the support the Prestoungrange Arts Festival is now giving to Mary Martin's Petition on Helen Duncan's behalf. Mary Martin is of course Helen Duncan's grand-daughter and our regular Guest of Honour each October 31st when we remember Prestonpans 81 executed witches that we Pardoned in July 2004 at the Barons' Courts.

To Register your support for the Campaign to get a Pardon for Helen Duncan click HERE

Severin Carrell, The Guardian's Scottish Correspondent, undertook detailed research and interviews in Scotland as he penned the feature shown below.

N.B. Because the Feature filled a complete page of The Guardian newspaper it was too large to scan as a single image here. Accordingly it has been divided into 4 segments and each can be enlarged and read by clicking on that portion of the imagery below.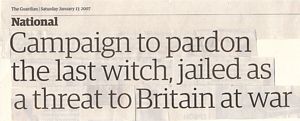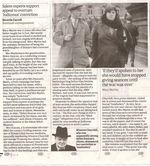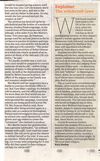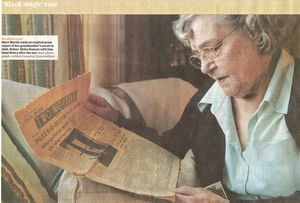 Published Date: January 13th 2007