Our Witches Remembered Again ... Hallowe'en 2009
Three Successful Performances on The Cauldron

The Prestoungrange Players gave three performances in the Thomas Nelson Suite of Roy Pugh's successful second play in his trilogy, The Cauldron. Well over 100 attended and heard once again the harrowing tale of witch persecution that blighted The Pans at the beginning of the 17th century.

Mary Martin, grand-daughter of the last woman, Helen Duncan, convicted under the Witchcraft Act in Britain in 1944, joined the audience and cast to lay remembrance rosemary in the south garden of the Gothenburg, where all 81 names of those who died are recorded.

click on the photograph to enlarge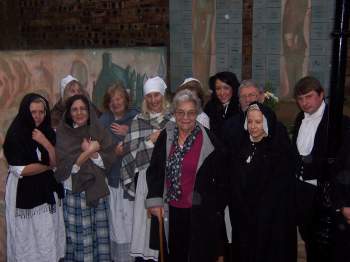 This year's production was directed by Andrew Dallmeyer, and the cast included new inquisitorial faces in the persons of Roger Knox and Gareth Bryn-Jones. John Lindsay, Poet Laureate, once again contributed new poetry - All in a Mare's Nest given below:

ALL IN A MARE'S NEST

Gin they could flee
They wad hae fled
Or hovered
Like a muirland gled
Above the fields of smouldering straw
Where truth lay chokit
In the craw.

Whae lured them doon
The path that led
Where helpless angels
Feared to tread;
Where law and logic lay abed
With hatred fear and lies?

A wudspur Lordie
Pu'ed their strings
Tae rankle hard
The haveril king.
As ever in dire times of sturt
The saikless suffer – no' the lord.

The saikless won a scapegoat's fate:
"Floan wi' the De'il" – for Heavens sake!
A warlock's tryst – a druids' dance –
In truth they never stood a chance!

Owerwent the hapless coven then,
Flung to the Divell's midden den
All in a mare's nest – weel we ken...
As deep as the Forth the lies o' men.





Published Date: November 8th 2009