Arts Festival Sets its Sights on Fowler's old HQ - Coeval
Hopes for dedicated facilities

The Arts Festival has resolved to seek to convince Lidl that the old Fowler's HQ premises, used until January this year by Coeval, should suitably become their new HQ.

The current activities are spread over several locations and a single premises such as the old Fowler's HQ will be ideal. A sum in the region of £250,000 is being offered in the knowledge that a further £50,000 will be needed for land remediation [there has been serious recent subsidence in the garden area] and restoration. Such a budget is managable by the Arts Festival from its own resources but if potential developers materialise to push the price sky high conditional on getting planning consents a community tug of love seems about to begin!

It would be fully restored to give total credit to its neo-art deco style just as The Prestoungrange Gothenburg recovered the 1908 arts and craft heritage it had - winning The CAMRA and English Heritage Award 2005 as the Best Pub Restoration in the whole of the UK.

And to be sentimental, the Arts Festival has already recreated the old Fowler's Ales in its microbrewery!

The Edinburgh Evening News picked up the story first as shown below but the East Lothian press took note as well. The Arts Festival's plans are being forwarded both to the Community Council and to East Lothian Council. In the last resort, if East Lothian Council is formally asked to give consent for 'development' of the site which is currentlty zoned 'commercial/ residential', their final determination will have a very considerable impact on the momentum which has been achieved over the past 8 years for the arts in The Pans. Naturally, the Arts Festival hopes that both Lidl and East Lothian Council will consider the offer fair and in the best continuing interests of the community.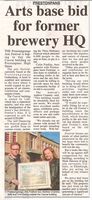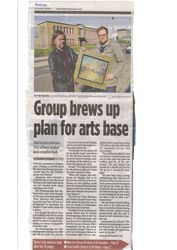 Postscript: News of Community Council Support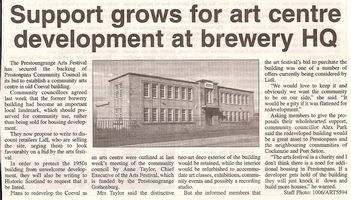 Published Date: October 4th 2006