Corby Starts Stitching its Scottish Story ... in time for Homecoming 2014
Scottish Diaspora Tapestry includes tales from England, of course!

The Arts Festival's magnificent Scottish Diaspora Tapestry is carrying six panels from Corby as well as three each from Merseyside and Doncaster. Each of those communities has fascinating tales to tell and Corby is the first to get its panel designs and wools into local stitchers hands!

Corby's Mayor, Judy Caine [left below] along with partner Paul and young son Karl, was at the town's Cube Centre on August 1st to meet and talk with the first two teams of stitchers. John Douglas, an octogenarian lifelong Scots leader in the town was there to greet her. He later gave a stiring rendition to one and all of It's Corby for me ...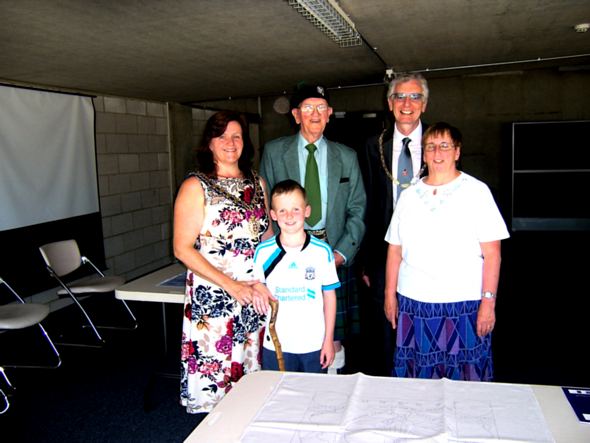 Eileen Smith [left] and Vida Brown are taking the lead for the role of St Andrew's and other churches in the success of Scottish life in Corby [pictured below discussing the design with Gordon Prestoungrange, Chair for the project].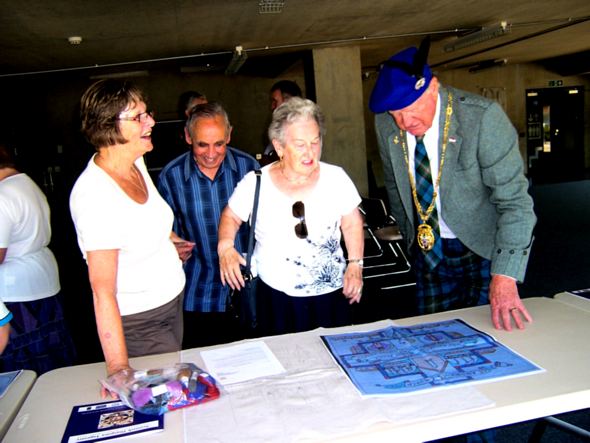 The famous PLUTO pipeline under the Channel, built in Corby's steel works to carry D Day supplies of petrol and water to the Normandy beaches and bridgehead in 1945 is being tackled by Christine Gilson and the All Stitched Up Group - pictured right below with the Mayor.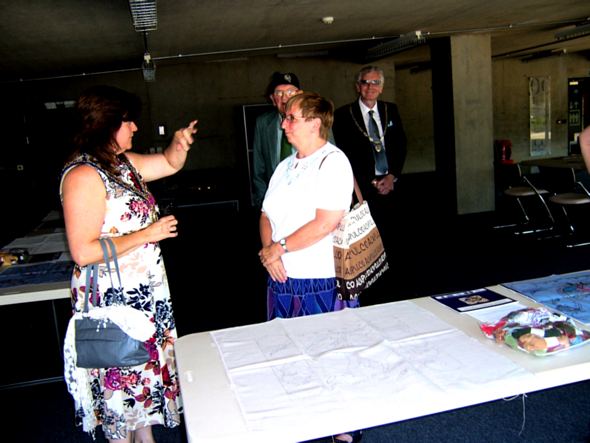 Stitcher Briefings in coming weeks for remaining four panels

August is a difficult month to get started but there's a completion deadline of November 30th so 'needs must'. In the coming weeks stitchers for the other four panels will be briefed by Sylvia Burgess. They tell of the Highland Games, the Steel Works, Home & a Job Motivations and the New Town itself.

The local press are obligingly covering the story of this great project in Corby and BBC Radio Northampton and Radio Corby continue to play a part with interviews and news reports.

Coming to Scotland for the Great Exhibitions in 2014

There's a particularly warm welcome for everyone in Corby with a love of Scotland promised at Homecoming 2014 when these Corby panels and another 150 from around the world will be at a series of national exhibitions. And in 2015 there are plans already to take the entire exhibition to Corby just as the earlier Battle Tapestry was displayed there late last year.

The 2014 exhibitions run from June to October in Prestonpans, Stirling/ Bannockburn, Arisaig, Edinburgh, Glasgow/ Paisley and Inverness.


Published Date: August 2nd 2013