Was Auld Fowler's HQ really an icon? Was it really historic? Or was it the Ales that were?
Robert Dow Poses a significant Question ...

click to enlarge his letter to the East Lothian Courier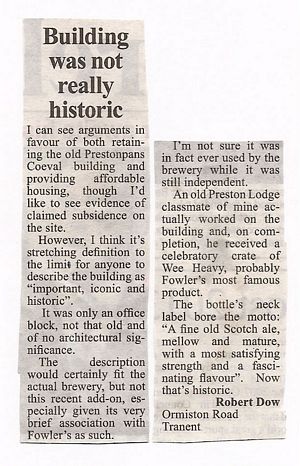 Dear Robert

You are quite right to record that the Auld Fowler's HQ in The Pans was not very old, being built in 1953. And that less than 10 years later the directors sold out and the new owners from Edinburgh soon closed the brewery despite clear initial promises to the contrary. More than 300 jobs were lost.

It was however built to 1930s plans and its interior was most uniquely pleasing art deco. The Royal Commission on Historic Buildings in Scotland captured the details.

The arguments that were advanced by the Arts Festival and the 800+ signatories to the Community Right to Buy which Lidl, Historic Scotland, The Minister of Culture and East Lothian Council all rejected were that so far as Prestonpans was concerned it was the sole remaining operational physical structure from the town's industrial heyday. And because of its styling it was in our opinion an excellent structure as well. Not unique in the nation perhaps but certainly unique hereabouts and symbolic of a great deal. Perhaps our campaign made it an icon?

"They just don't get it"

Everything else from our industrial past has already been demolished - the salt pans, the harbour, brewery, the soap works, the potteries. Each time there has been protest, nobody accepted the argument. The struggle to preserve the salt works in 1976 has been well documented. Each time non-Panners knew best. There was to be more 'carpet' housing. This time make way for the 'cheapest flats in Scotland'.

We are greatly convinced by the arguments of town planners like Sir Patrick Geddes that communities very much need to hold on to and cultivate their sense of place, and of their own history. It is in this way they retain their strength and identity as a community. Prestonpans had for 1000 years, and still has, a very real great identity. The Auld Fowlers HQ could have continued to further stregthen that with new and sustainable uses. We have seen this exemplified over the past five years at The Gothenburg here in town. But the opportunity has once again been lost.

More housing, more supermarkets cannot achieve that. It's really a very simple point, but 'they' just don't get it.

As to Fowler's Ales, well we have built the microbrewery and we've brewed the 'Wee Heavie' at The Gothenburg, and if the Auld HQ had still been standing the Community Right to Buy would have seen it brewing again on the ground floor there. Our fine brewer Craig Allan, descended from two generations of Fowler's brewers, is going to create two 'Demolition' Fowler's Ales very soon so we can drown our sorrows ...

.... now, are you slightly more in favour?

Yours aye
800+ Panners and
800 more Arts Festival Members

__________________________________________________________
P.S. There was subsidence on the site, just to the east of the Auld Fowler's HQ. Its presence was known all along and declared in the Offer for Sale in 2006 by Lidl. A study had been done for them definitively indicating it could be fixed for £40,000. No new evidence of any further subsidence was apparent when Lidl's PR Department announced on April 24th 2009 that it had become an imminent health and safety risk for us Panners and that squatting and drug taking were occuring. We find such explanations for demolition before plans for any future development at the site have been debated let alone approved to be wholly specious.

As you may know, we have already refered the Fowler's Affair to the Public Services Ombudsman for his opinion on the administrative processes followed throughout by all parties.





Published Date: May 9th 2009