Auld Fowler's Lives Again .... honouring the sea
It's time to honour the sea ...

Jokingly, some years ago, the Edinburgh Evening News suggested if we carried on as we are across East Lothian's shoreline we'd soon be dubbed the Scottish Riviera. It's no longer a joke of course as more and more developments occur across the county.

One prime instance of what can be done is depicted in an initial sketch below by Prestoungrange & Three Harbours Arts Festival Convenor Andrew Crummy. It shows the Auld Fowler's HQ restored and developed with a nautical orientation.

click to enlarge the sketch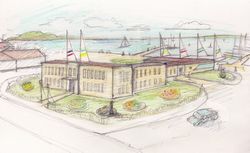 The new art deco styled facilities running south/ north will house diverse arts activities with a small marina to the far northern end. Fowler's will brew again in the Auld HQ.

That's not the only notion however. Initial structural engineering designs have been commissioned to show how a Prestonpans Promenade can be created that will run from the marina all the way west to the site of the old Cuthill School - just short of Sam Burns Yard. That'll be a very fine way to walk the John Muir Trail will it not?

We're not NIMBYs here at the Arts Festival .. but ..

We've greatly welcomed the incomers staying in the new housing developments in The Pans and across the southern sides of Cockenzie and Port Seton. But The Pans is not well pleased to be regarded as 'the' place to provide the cheapest housing in Scotland or to rehouse a disproportionate share of those who have fallen on their luck. We're trying to be on the up here in The Pans.

We want housing stock for incomers and indwellers that can meet our aspirations. And we want our great old buildings to play a key part in building the community's self esteem.

So please think again Messrs Lidl and G2 Wimpey about your desire to demolish the Auld Fowler's HQ. Build for our community aspirations not for 'lowest cost tender' housing on prime waterfront land.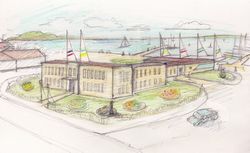 Published Date: April 7th 2009