Scottish Ministers Abstain on The Fowlers ... Oh Dear!
Oh No!

Just when we thought we were about to make just a wee bit of progress in our campaign to Save Auld Fowler's HQ in town, Scottish Ministers have knocked back our carefully prepared Application for 'Community Right to Buy'.

Now it's not clear whether any Scottish Minister is actually aware of the fact 'they' have knocked the Application back, but in their names the civil servants concerned have informed the Arts Festival it's a non-starter of an Application because .... Lidl UK GmbH has already given an Option to Buy to another party, who it is surmised is Taylor Wimpey - of the Let's Build 56 Affordable Housing Flats there.

An Appeal is possible of course, so as with the Historic Scotland Listing Appeal, we are certain to be looking at a long period of administrative debate and if we are not careful legal expenses we cannot afford.

Is there a pro bono lawyer reading this email today who can help?

Our 'starter' Appeal now lodged is based on the grounds that Lidl was not in any position to be able to enter into a valid Option to Buy with any other Party that included demolishing the Auld Fowler's HQ .... because that building is an integral part of the Planning Consent that allowed them to build their extant supermarket on their second time of asking. Their design solution retained the building as part of the whole.

click to enlarge press cutting from the East Lothian Courier & East Lothian News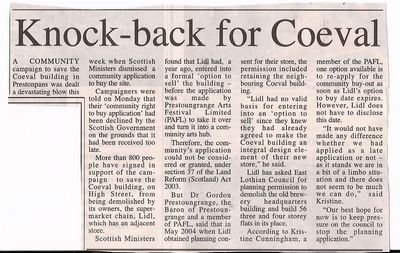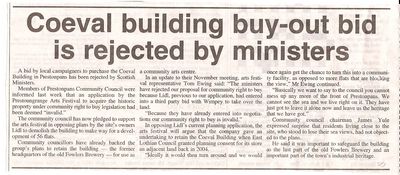 To be continued ....




Published Date: November 11th 2008