Friends of Fowler's to the East of us .... Friends of Fowler's to the West ..
The Fowler's Auld HQ Campaign Raises More Awareness and More Support ... at Holyrood & Haddington respectively

The two letters presented below have been gratefully received at the Arts Festival and the words written speak for themslves. Councillor Peter MacKenzie, who joined the Campaign Protest on site in the late summer 2007, has remained solid in his support and is playing a major role in briefing both ELC Council Leader David Berry and Culture Minister Linda Fabiani MSP.

click on letters to enlarge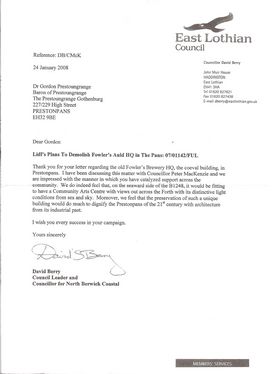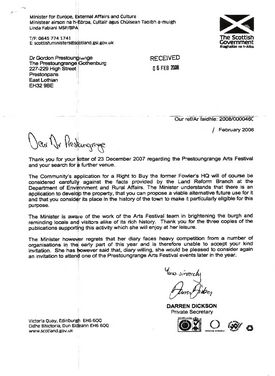 Really a Lot More Still to Be Done ..... of course

Nothing worthwhile in life normally comes easily! The application for our Community Right to Buy noted by Minister Linda Fabiani has a few more exercises in paperwork and elector 'signature collection' to go yet, so any and all volunteers please be in touch with Tom Ewing and/ or Gillian Hart at The Prestoungrange Gothenburg Ph 01875 819922.

Ian Heron from the Right to Buy Office of the Scottish Government was in Prestonpans giving a full briefing and guidance earlier this week.
Published Date: February 9th 2008