WhatG2ShouldPleaseNotDoIn Prestonpans ....
Ever Wondered Who ThisisG2 actually is?

In the Edinburgh Evening News January 9th [presented below], ThisisG2's Director and General Manager Fraser Thomson asserts he has "held extensive discussions with the council [?] to meet the needs of the people in Prestonpans....[and]... the planned homes are intentionally sympathetic to Prestonpans' architecture."

His website is to be found as linked here and it offers 'Coming Shortly' for East Lothian.

click on press cutting to enlarge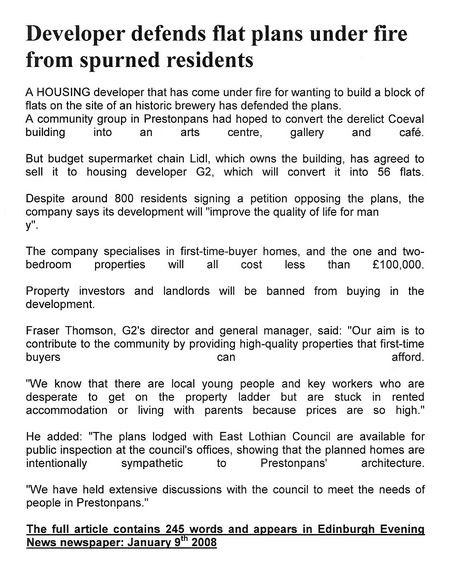 ThisisG2's home page shows it to be a subsidiary of Taylor Wimpey and Thornaby on Teeside is seemingly the nearest he has come to Scotland thus far. One has to wonder how well informed he is and what a reception he can expect for his homes that are sympathetic to Prestonpans architecture. Indeed. So demolishing the last surviving industrial legacy premises is 'sympathetic' is it?

N.B. The Campaigners against the demolition of the Old Fowler's HQ wish Fraser Thomson and Taylor Wimpey [and indeed Lidl] well in their mission to create affordable housing across the nation - although surely the market for such flats at this time is going into recession. Accordingly, we suggest they immediately turn their attention to the southern boundaries of the town over the coming decade where more than a few new homes are scheduled.

But please leave Fowler's neo-art deco for the Community to Buy as 10% of the electors have now petitioned the Scottish Government, to be lovingly restored as a key icon in the celebration of our industrial heritage. Tom Ewing and Arts Festival Convenor are pictured below as they lately posted the Community Right to Buy Petition off to the Scottish Government with all those signatures! Its contribution to the community will be best value for Lidl and us all.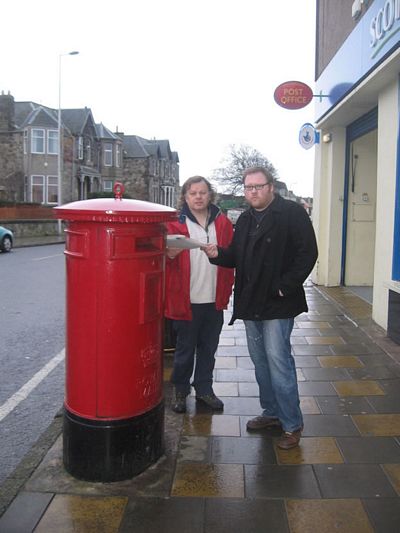 P.S. Beware if you ever expect to be a supplier to Taylor Wimpey!

Just a day after ThisisG2 came clean [?] about its plans for The Pans its parent compamy dropped a bombshell for all its suppliers. They simply said Knock 5% off All Your Contracts and Invoices, retrospectively. We are of course hoping that Taylor Wimpey never gets anywhere near the Old Fowler's HQ site but if it ever does, let local suppliers be warned. They might promise low cost affordable houses but they expect to achieve that at the expense of their suppliers [as reported here in The Daily Telegraph. Or maybe they'll raise those proposed prices, as well?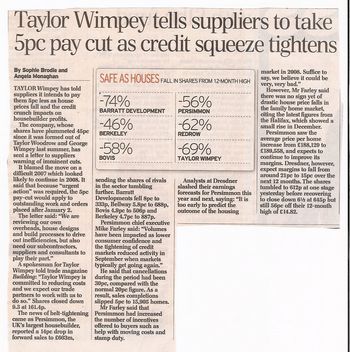 ________________________________________________________
for the Arts Festival and its Directorate


Published Date: January 9th 2008