Lidl's Demolition Plans for Fowler's Old HQ to create 56 flats
The Request Surfaces at Haddington

Listed in the Planning Papers for East Lothian Council this month is a request from Lidl themselves to build 56 flats on the site of the old Fowler's HQ. The file is @

http://www.planning.eastlothian.gov.uk/WAM/pas/showCaseFile.do?councilName=East+Lothian+Council&appNumber=07%2F01142%2FFUL

...but it's hard to access directly. It's possible to go via
http://www.planning.eastlothian.gov.uk/WAM/search/pas/index.htm

Search by week ending December 2nd for the Application Number 07/01142/FUL

Once reviewed if you want to comment go to left panel and hit Comment on Applications!

Lidl is very very well aware that the everyone from Haddington and the Pans Community Council down wish to protect the building, that Historic Scotland are considering its Listing and that the Community's Right to Buy Application is en route to Linda Fabiani the responsible Minister. So why?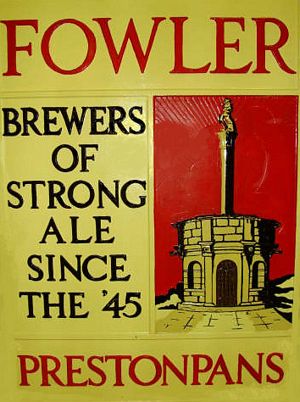 Can Lidl please articulate once and for all why, as appreciated incoming local traders, they wish to affront one and all for pieces of silver?

CAMRA's Pints of View Winter 2007 Issue # 50 adds its voice to the campaign too.

click on press cuttings from East Lothian Courier and Pints of View to enlarge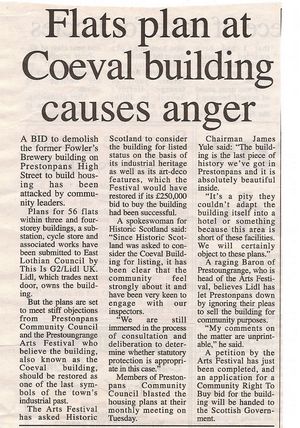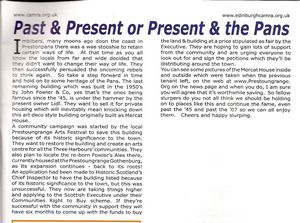 _______________________________________________________
from the Arts Festival Directorate




Published Date: December 12th 2007