Restoration Goal for the Tranent to Cockenzie Waggonway across which the Battle raged!
It was Britain's first rail-way and the world's first to any seaport

....so it's very clear the Waggonway that the Cadells built in 1722 that ran from Tranent to Cockenzie, which remained operational until 1886, is a very serious heritage responsibility for the community. It also won fame in 1745 as the Battle of Prestonpans raged across its wooden rails. Those original wooden rails were replaced with cast iron rails in 1815.

click to enlarge these cuttings from the Edinburgh Evening News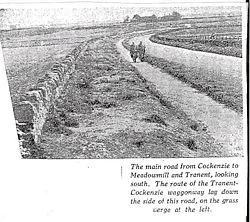 Battle Trustees join forces with John Muir Way Walkers

Back in 2001 East Lothian Council presented a scheme to the Coalfields Regeneration Trust for the reinstatement of the Waggonway as a 'walking path' right through from Tranent, under the A1 via its tunnel and then, following the existing right of way, right down to the sea at Cockenzie Harbour. The development of the job-creating Cockenzie Power Station and its requisite coal store had meant that access over the final few 100 yards was impracticable, but it was obviously highly desireable to find a detour/ alternative routing that made the link up to the now extremely well established John Muir Way.

Alas, the request for funding was unsuccessful and the proposal has lain dormant until 2007 when the Battle Trustees have both given their wholehearted support for the earlier proposal and also added additional key elements of their own.

Positive Discussions with Scottish Power looking for a way ahead

The Trust's recent discussions with Scottish Power have indicated that, provided proper security is attended to not least in respect of the rail track from the coal store to the main line, they are more than willing to help when possible to secure the desired objectives.

Clearly it is early days but a revised scheme is anticipated that will ensure: [i] that north/ south walking access along the whole of the Waggonway is restored; [ii] that archaelogical research examines the waggonway to see if any artefacts can be located; [iii] that both the Waggonway itself and the passages of the Battle that flowed across it in 1745 are formally interpreted and markers for the clans and regimental positions installed; and [iv] that replica wagons are constructed on a small stretch of track to give a full appreciation of how gravity and horse power enabled the Cadell's original waggonway to function so effectively for so many years.
Published Date: October 16th 2007