2. Lord Mayor's Beach Barbecue Heralds Charles Belfield IV
Third Goth Community Pub in a Day ... and ready for a Coke Zero!

It's true. When Lord Mayor Jorgen Linder and family reached Prestonpans at the end of their Sunday visits to two other Goths at Armadale and Newtongrange, they had to gather pottery shards off the beach before they qualified for a can of Coke Zero. But there you go ... it was meant to be good relaxation before Gothenburg Day, Monday July 23rd, and its very full schedule. [Ever since the Lord Mayor's first visit in 2003, as the Goth in Prestonpans was undergoing restoration, July 23rd has been designated as Gothenburg Day.]

click on photographs to enlarge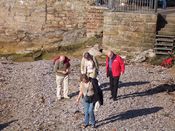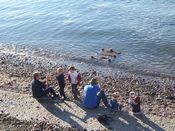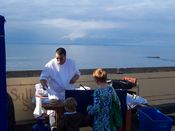 The Beach, or as it is most properly known 'The Baronial Foreshore' where Scotland's last stocks were used in punishment as recently as 2004, was the the place where the requisite pottery shards were to be found and the Gothenburgers consumed with Coke Zero; but anxiety about the weather meant the actual barbecue itself was under a Foster's canopy on the northerly car parking area that in future is to be known as .... Charles Belfield IV, of which more below.

GothMembers and those who created the 2nd Three Harbours Festival in June 2007 were invited along for the evening, and the sun returned after an absence of two months!
These included muralist and painter Tom Ewing who had painted the Commemorative Work for The Goth in 2003 delivering a duplicate to Jorgen Linder in City Hall Goteborg the following December. He is shown here below catching up on football no doubt and more besides ...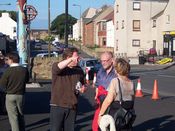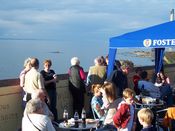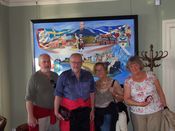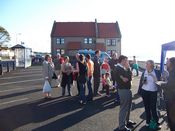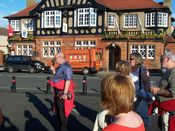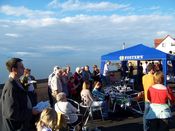 ....so what of Charles Belfield? And why IV?

2007, from late August to end September will see the Prestoungrange Arts Festival present the largest exhibition of Prestonpans Pottery ever given - at St Andrew's Church Hall on Ayres Wynd in The Pans. And Graeme Cruickshank, its Curator, has compiled the definitive 200pp full colour book on Pans Pottery from the mid 18th to mid 20th centuries which will be published at that time.

The last great potters in Prestonpans were the Belfield's of whom three generations called Charles managed their Pottery on the very site of the Gothenburg's car park and the homes to the west. Hence the proud new name.

Before walking back along the sun soaked beaches of the Scottish Riviera [which we are] to his family's B&B in Port Seton the Lord Mayor was formally called upon, and gladly agreed, to name the car park: Charles Belfield IV. In doing so he also drew careful attention to the ice age boulder on the Baronial Foreshore [shown below] which is to be lifted to the corner of the car park shortly and a silhouette statue of a potter cast in wrought iron placed on its summit.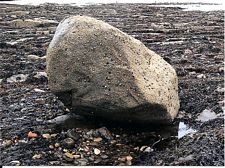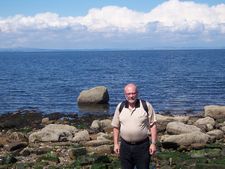 Published Date: July 31st 2007