The Quiet & Polite Protest ...no need to be Defiant ...
Misguided Arts Convenor Put Brush to Paper and the Protest was underway ...

As already reported, the arts community in Prestonpans and along the Three Habours is greatly disturbed at the rumoured plans Lidl has to sell the old Fowler's HQ to developers intent on its demolition. Lidl's Development Division in Livingston has dubbed the artists 'misguided', which must include internationally acclaimed muralist Andrew Crummy who has nurtured the arts community hereabouts for the past 5 years. Maybe. But maybe that adjective will come back to haunt Lidl in the coming months and years.

The press cuttings below expand on the Protest as do the photographs taken on July 24th.

RED LETTER DAY AUGUST 16th @ 10 AM

The Arts Festival Directorate is pleased to report that Historic Scotland is actively reconsidering [no promises of course] its earlier determination that the old Fowler's HQ should not be Listed. After all, if all the other industrial buildings in Prestonpans have gone leaving no suitable context, what was the point in Listing the last of the Mohicans that was still standing. [Although no one has yet seen what damage has been caused on Lidl's watch since Nick Sharp recorded the building photographically as he vacated it we thought such a line of anlaysis discriminatory and unfashionable to say the least!]

click on press cuttings to enlarge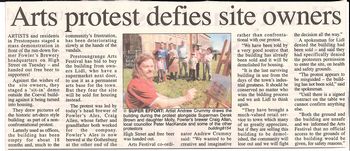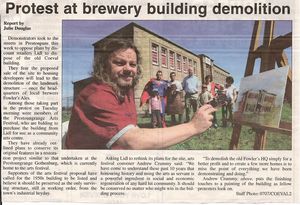 ... and as for the finished work of art?...

The press photographs above were taken before Andrew Crummy had finished his artwork shown below. And local snapshots of the Protest are also given. They show local SNP East Lothian Councillor Peter MacKenzie, Cabinet Member for Education who represents the Preston/ Seton and Longniddry Ward, meeting with the artists. Also there is Craig Allan, today's Fowlers Head Brewer - who generously dispensed free PROTEST ALE to those out in the unusual sunshine. Lynn Shroder showed especial interest in the wrought iron gate depicting hops and celebratory artwork can be expected from her shortly no doubt.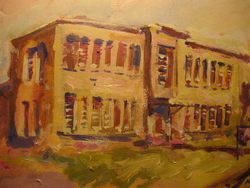 click and enlarge to be sure to read the Fowler's tombstone in The Pans and to see Fowler's HQ reflected in the Lidl sign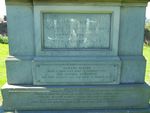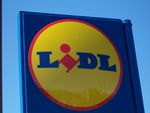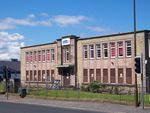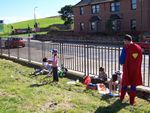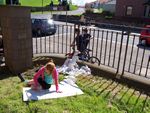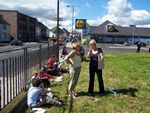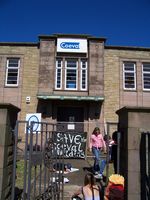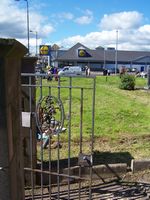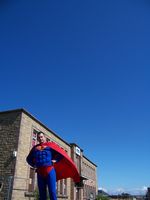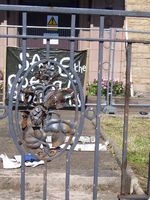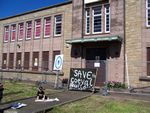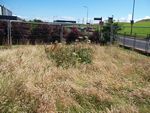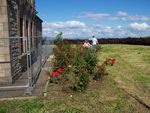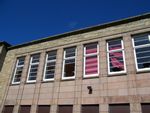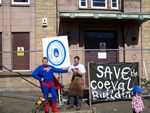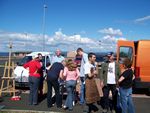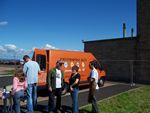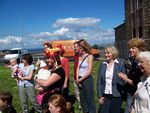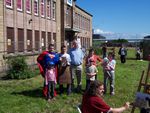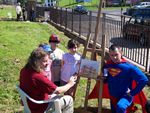 Turning in their grave surely?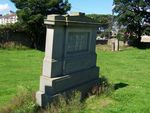 Published Date: July 30th 2007