Global Conferential Tales VII: Hey Johnnie Cope ..We did a Mural-in-a-Day!
Never Mind The Weather ...

Oddly, it was not the ocean tides that gave concern to Andrew Crummy as Artistic Director for the Global Conference; it was the prospect of rain on Thursday August 17th. That was the allotted day that he and 16+ local artists, aided and abetted by the world's greatest exponent of the art form [Art Mortimer from California], were going to paint Scotland's indeed Europe's first Mural-in-a-Day.

The Day already had a Briefing and a Finale scheduled. All that needed to occur was the painting in between. And the rules of the art form permitted only outline sketch format to be on the walls the evening before - as shown below.

click on all images to enlarge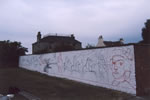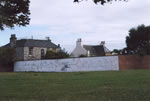 The Theme and its Interpretation

Not a little thought had gone into deciding what the Mural-in-a-Day theme would be. The final decision went to a depiction of Hanoverian General Sir John Cope fleeing from the Battle of Prestonpans on September 21st 1745 after his army was routed by Bonnie Prince Charlie's Highlanders. The iconic white flowering thorn tree beneath which Colonel Gardiner, local landowner and brave hero [although Hanoverian] was mortally wounded, takes centre stage and the derogatory poetry about the General in flight is there too. And of course the famous image of Bonnie Prince Charlie himself is included.

The pictures below show the mural's evolution as the artistic team worked through the day. For the Finale Andrew Crummy explained the story depicted, Art Mortimer cracked the champagne open, and the artists involved all signed the Wall. [And on Friday night they also received a Certificate and a T-shirt in celebration and thanks for their support.]

This mural has even greater significance in Prestonpans than the direct recording of this important element of our history. The 'better interpretation and presentation' of the Battle Victory and the Hope and Ambition it represented and inspired is set to become a major theme in the Arts Festival's campaign to attract ever more cultural tourism to the town. The major launch of the Festival's Dream for this theme is taking place on September 21st 2006.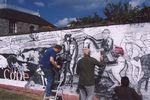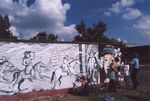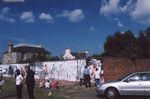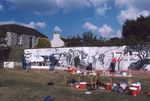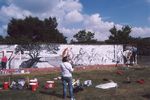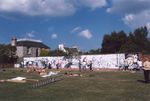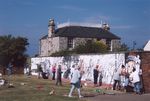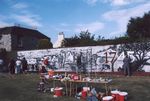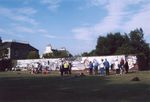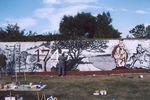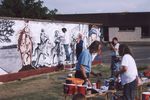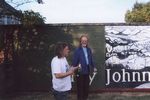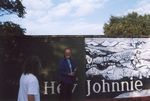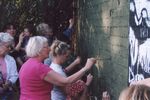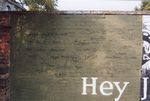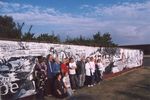 So, it can be done in Europe, weather permitting! Thus inspired, Invergordon are looking to their laurels and hoping to emulate the art form there too.

P.S. The guests arrived a tad early for the Finale, so Tom Ewing was given the lead role for distracting them with stories of the Three Harbours Festival in June 2006 that had opened nearly 100 art venues in town for public viewing by day and lit up the Power Station chimneys by night.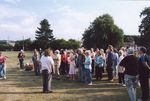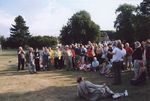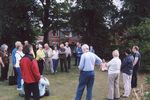 Published Date: August 17th 2006