Global Conferential Tales VI: "Are ye waukin yet" .. for Battlefield Breakfast?
Climb Every Mountain

The ambition of the Prestoungrange Arts Festival from its inception has been to create Cultural Tourism into the area, not only by the murals programme but by the annual Witches Remembrance. But every analysis has shown that a pattern of continuous tourism all year round will be most likely to emerge if the town's great Battle in 1745 can become a significant focus. And it is year round tourism that promises the greatest socioeconomic benefits for the town.

Accordingly for the past two years plans have been hatched and on September 21st 2006, the 261st Annniversary of Bonnie Prince Charlie's most famous victory, the people's Dream is to be unveiled.

The Dream will be costly. Ad hoc action will do little to create tourism and nothing to ensure sustainability. Only a Grand Plan with an investment approaching $US15 million/ £7.5 million can really make the breakthrough.

Bonnie Prince Charlie Arose early on September 21st 1745 ...

... indeed he did, and so did his Highlander Army. Taking the Hanoverian Army totally by surprise the battle was over in 15 minutes, and Scotland was at the Prince's feet. [The Guide to the Battle sequence is linked here]

So it was no surprise that the Conference required all the guests to rise early as well. By 07.45 am they were to be at Birsley Brae for a breakfast of Scotch eggs and more; and a meeting with Highlander Adam Bruce who demonstrated their weaponry and the ferocity with which the Highlanders won the day using it.

click on all images to enlarge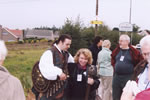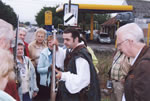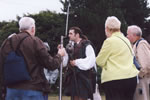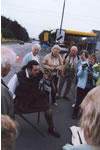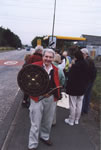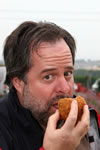 As Bonnie Prince Charlie been able on the eve of battle, it is still possible today to see the lie of the land and the field he chose where the victory was won [despite today's intrusive electricity pylons]. And his battle strategy was carefully explained before moving off to the scene of the battle itself and the interpretation plaques atop the coal byng.

Clearly the challenge to create a cultural tourism destination for 250,000 visitors each year is a massive one, but well worth the battle. After all, the Prince gained the Crown of Scotland in 15 minutes. There's an example to follow!

Not surprisingly perhaps, after that early start and breakfast, and the climb to the top of the byng, the theme for the Mural-in-a-Day that commenced with a Briefing at 09.15 simply had to be that victory.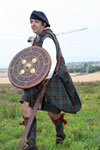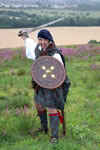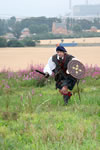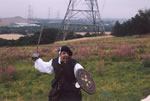 Published Date: August 17th 2006