Comics Come to The Goth .... Prestonpandemonium it is!
Art Takes Many Forms .. and comics is one that always fascinates!

The Prestoungrange Gothenburg has played host to more than 100 arts events and many thousands of visitors since it re-opened in July 2004 not all straight as a paint brush either. In November / December this year Tony Carter who created the reproduction 1930s Bellfield Broon Coo Teapots used in the James Park Bistro is putting on an exhibition of Novelty Teapots including a Wiles Coach.

July and 4 November are already booked however for 'Comics as Art' and here are the details from Prestonpandemonimum [.com]

P.S. The first Workshop in July was a grand success with over 100 visitors from as far afield as Glasgow.

Click on images to enlarge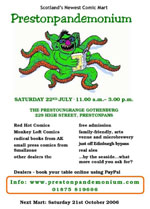 Scotland's Newest Comic Mart
Saturday 22nd July 2006 11.00 a.m.- 3.00 p.m.

THE PRESTOUNGRANGE GOTHENBURG
229 HIGH STREET, PRESTONPANS
Browse…Buy…Banter… All sorts of comics for all sorts of people
Batman, Spider-man and X-men; Tintin, Palestine and Crumb; Manga, Horror Mags, 2000AD, Zines and Undergrounds

Red Hot Comics ** Free Admission ** Monkey Loft Comics ** Family-friendly Arts Venue and Microbrewery ** Radical Books from AK Distribution ** Real Ales ** Small Press Comics from Smallzone ** Omnivistascope ** By the seaside...What more could you ask for?
Other Dealers tbc





Dealers
If you've got comics to sell you can book a table for £10 - any questions just mail Nigel (nigel@barker-family.info)

Fans
Admission is free. See you there !

About Prestonpans
"The Pans" lies 9 miles east of Edinburgh, nestling between Musselburgh and Cockenzie on the beautiful East Lothian coast.

It is famous for the battle of 1745 but is also fast becoming known for its murals which you cannot fail to notice dotted throughout the town.

About "The Goth"
The Prestoungrange Gothenburg or "The Goth" as it is known locally is a not-for-profit arts venue & microbrewery serving real ale and is located at 227 - 229 High Street, Prestonpans.

Getting to Prestonpandemonium
By road
Just minutes from the A199/A1 (Wallyford junction) or take the coastal route (B1348). Free parking is available directly opposite The Goth

By bus
Buses 26 (Lothian) & 129 & 66 (First) stop outside the Goth. Buses 110 and 124 nearby.

By train
Prestonpans train station is normally only a 14 minute journey from Edinburgh on the Edinburgh-North Berwick line. However….on 22nd July the Edinburgh/North Berwick service will be replaced by a shuttle bus operating from Newcraighall.

Leave the station by Platform 1 and walk down Station Road, turning left on Preston Road then right down West Loan. You will be able to see the Firth of Forth as you are heading down the hill. The ruins of Preston Tower are to your right. When you reach the High Street take a left and keep walking until you reach the Goth.

For GPS fans
Location: EH329BE
Grid ref: NT381742
X: 338100m Y: 674200m
Lat: 55:57:26N (55.9571) Lon: 2:59:33W (-2.9924)

Octofanboy
Image kindly donated by Nulsh.

All images copyright their respective owners.
Published Date: June 24th 2006