Murals Painting Blossoming All Over The Pans
Two new Murals created at The Infants School and at The Prestongrange Heritage Museum

It was never intended or expected that The Prestoungrange Arts Festival per se would have any monopoly of mural painting in Prestonpans. All over the world in Murals towns and cities 'feral' murals as they are impolitely known appear [unless ByLaws prevent them that is!] And so it now is in The Pans ... except that they have both been created under the tutelage of the Arts Festival's Artistic Director, Andrew Crummy.

Both will feature in the 2007 Calendar being produced by the Prestoungrange Arts Festival and in the arts book to be published on July 23rd this year. But they appear here for a preliminary look.

Prestongrange Man

The Prestongrange Industrial Heritage Museum has just become part of the now well acclaimed Prestonpans mural trail. The fascinating new work has been created over the 2006 May Bank holiday by more than 40 children and many adults. Andrew Crummy was commissioned by the Museum to produce a mural that involved the community.

Prestongrange Man shows a miner crawling through the mine chiselling away the coal. But Prestongrange Man is made up of many other elements including the women and children who used to work in the mine and the other industries that made it "the birth place of the Scottish Industrial Revolution". The mural is black and white to represent the industries that were the bedrock of this community namely coal and salt. It also makes proper reference to the founder of the Heritage Museum, David Spence. David himself was in so many ways the very embodiment of Prestongrange Man.

Click on images to enlarge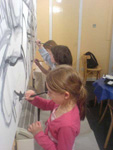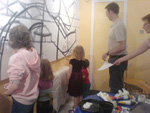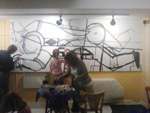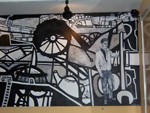 Food of Prestonpans

In February Jean Gardiner, Headmistress of Prestonpans Infants Primary School, and a team of young designers aged between 5 to 7 years set out to design a mural that would represent 'healthy eating' and recount some history of Prestonpans. The mural was designed to feature in their new state of the art canteen.

Jean Gardiner and East Lothian Council Arts Officer Jo Mawsley, who had already completed two murals in the playground, approached The Prestoungrange Arts Festival for help and support on how to complete this much larger scale work of art. After seeing the ambition of the project and how the school wished it to recount the town's history and involve every child, it was readily agreed that the mural should become part of the Prestoungrange Arts Festival's popular Murals Trail.

Many of the childern were involved in the initial design and Laura Young compiled the drawing to create the mural plan. The mural was completed over three weeks led by Laura. And with the help of Andrew Crummy almost every child contributed to this work of art.

The mural was unveiled by The Provost of East Lothian, local Councillor Pat O'Brien, in early March. The school is already planning two more murals in the future.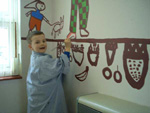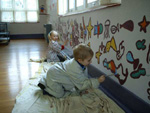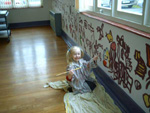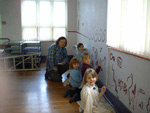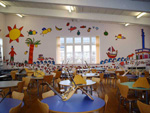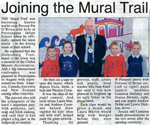 Published Date: May 3rd 2006