275th Anniversary well up and running .. Kiwis along with our own stitchers admire the Mount Felix tapestry
Under the wire … Mount Felix began the 275 Project to commemorate the Battle of Prestonpans …

It was, we thought, going to be a low key opener for 2020 but the Kiwis artwork commemorating Mount Felix Hospital in WWI has surprised and delighted us.

It was stitched in Walton-on-Thames and designed by Andrew Crummy after their community Riverhouse Barn Gallery Director, Emily Boulting, visited The Prestonpans Tapestry in 2010. We exhibited in Walton-on-Thames pour encourager les autres and this beautiful tapestry was the outcome. The exhibition in The Gothenburg was the first public showing since the Mount Felix returned from its 8 exhibition tour of New Zealand.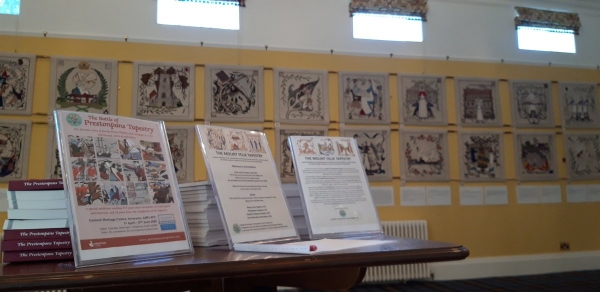 Nearly 300 visitors came to see the artwork and to the Gothenburg's delight many took lunch as well. They included expat Kiwis living hereabouts urged on by their Consul in Edinburgh and the New Zealand Society in Scotland - whose support was exceptional; thank you all!

Amongst those visitors on March 3rd were Stan and Jan McColm, locals here at Longniddry, and descendants of an invalided Kiwi who was twice fixed up at Mount Felix in 1917 and 1918! What more proof do we need that the world's a small place …

_______________________________________________________________

Full details of the 275 Celebrations are available at the Battle of Prestonpans Facebook page … where we are making sure there's ready access to excellent video footage as well as the archival records at this website since 2006 GO HERE



Published Date: March 21st 2020