Scottish Diaspora Tapestry at New Lanark Mills now till April 28th 2019
Open for All from March 2nd/ April 28th 2019

If you are going to visit, be sure to check times at New Lanark Mills website; but admission is free.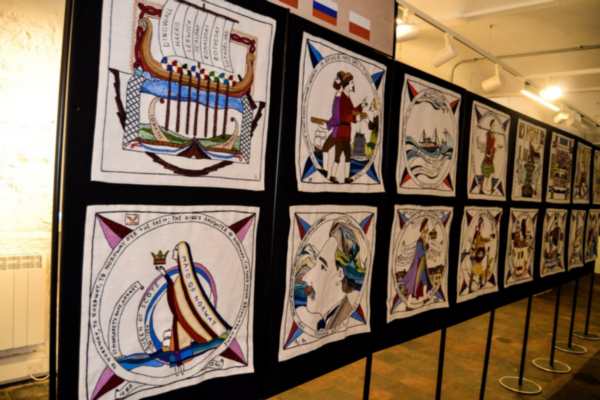 This is the first exhibition this year of the Scottish Diaspora Tapestry, and entrance is free. It is later scheduled to go to Glasgow's Episcopal Cathedral during that city's West End Festival in the summer.

Here's a reminder of the artwork as announced by New Lanark, including details of the parallel exhibition by Biggar & District Embroiderers' Guild.

"Scots have migrated all over the world and have often had a profound impact on the areas where they settled. The Scottish Diaspora Tapestry project brings together stories from such communities, documenting their Scottish connections in 305 embroidered panels.

"The tapestry will be on display in the Exhibition Gallery at New Lanark World Heritage Site on its way home from a world-wide tour. The Tapestry is a heart-felt homage to the determination, courage and achievement of Scottish migrants and their descendants across the centuries.

"The Scottish Diaspora Tapestry was designed by Andrew Crummy, the artist behind the original Prestonpans Tapestry in 2010, previously exhibited at New Lanark."

The Diaspora Tapestry was stitched across the globe and held two premieres, the first in Prestonpans for Homecoming 2014 and the following year, when the final panels were competed, in Veere in The Netherlands. Its permanent home will be in Prestonpans.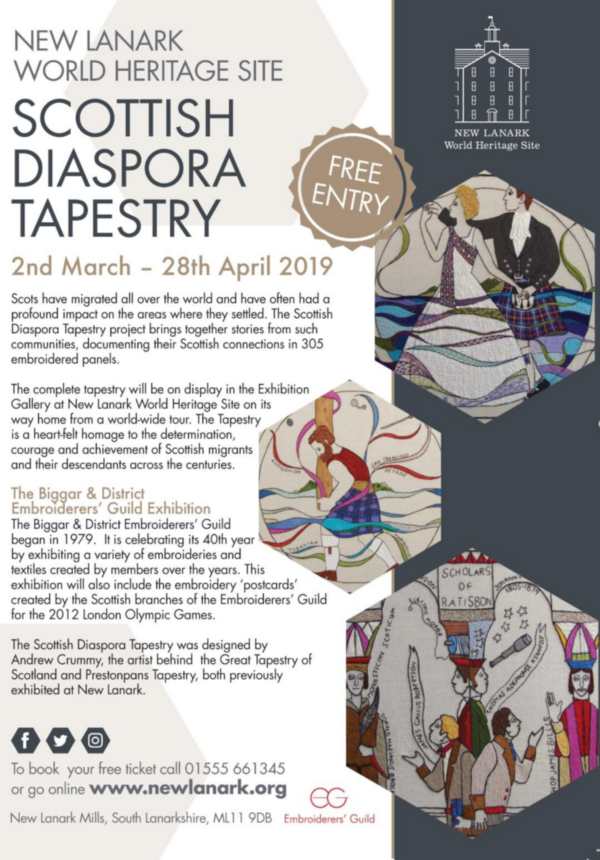 The Biggar & District Embroiderers' Guild Exhibition

The Biggar & District Embroiderers' Guild began in 1979. It is celebrating its 40th year by exhibiting a variety of embroideries and textiles created by members over the years. This exhibition will also include the embroidery 'postcards' created by the Scottish branches of the Embroiderers' Guild for the 2012 London Olympic Games.

To book your free ticket for this New Lanark exhibition call 01555661345 or book online at their website.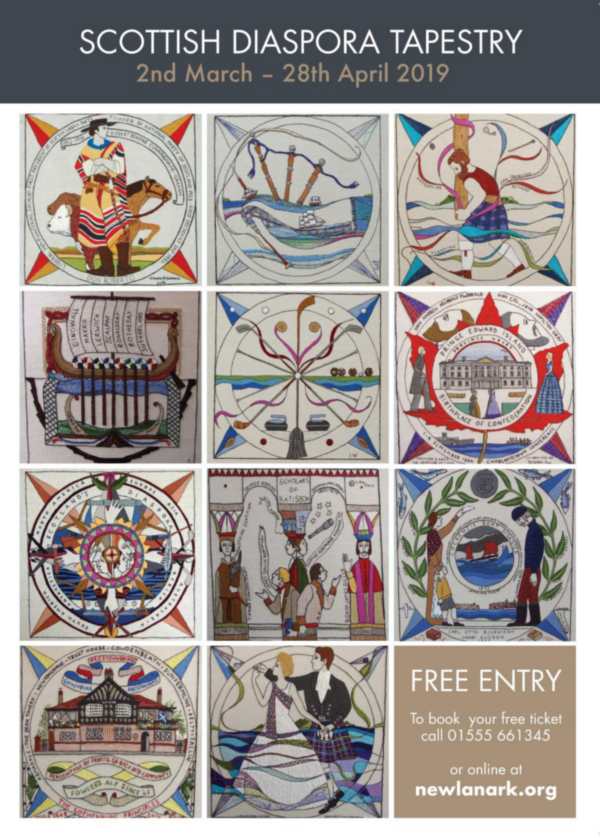 Published Date: March 2nd 2019