New Publicans for The Prestoungrange Gothenburg ... and microbrewers promised too
HQ for the 1745 Battle Trust, ancestral home of the town's two tapestries, Fowler's Haven and so much more …

Current licensee at The Prestoungrange Gothenburg, Sean Wood, is hanging up his hat to make way for his protege, Michelle Wilson, to take over the helm! Michelle started working at The Gothenburg a couple of years ago and very quickly rose through the ranks to become the General Manager, under Sean's leadership.

Sean Wood said: "Michelle became very evidently a huge asset to the business soon after she started. She clearly has the drive, ambition and passion to make the best out of anything she puts her hands to. The businesses entertainment programme has grown significantly since Michelle took it on and we have become a true destination for those seeking out weekend entertainment".

Sean will be moving on to spend more time on other ventures, whilst Michelle will take on the lease and roll out a plan of improvements and initiatives to take the establishment to the next level.

"I've done what I can here and it's now time to pass the baton on to somebody else to take things forward and seek out new ways of enhancing what is on offer at The Goth and I couldn't think of anybody better than Michelle to do just that. It seems such a natural transition. I have found it an absolute pleasure to serve the community during my tenure, having presided over 7 weddings, numerous family occasions and events, and have a huge gratitude of praise for Michelle having stood by my side throughout this time. I wish her all the best for the future." added Sean.

The Gothenburg has changed publicans a few times over the 110 years it has been in existence, the most significant of which was when Dr Gordon Prestoungrange's Family's Trust purchased and refurbished the building in 2004; they have retained ownership ever since.

An attempt to encourage a community buy out two years ago didn't come to fruition, at which point Sean Wood took on the lease of the establishment having been the resident brewer for a year. Michelle will take over from November 2018 and is really looking forward to the challenge.

Michelle said: "This is an excellent opportunity that I'll grab hold of with both hands. I love this place and everything about it. Our customers are an absolute pleasure to deal with and no two days are the same. There is definitely something special about The Gothenburg and I have some incredible memories since I've been here and am looking forward to creating many more.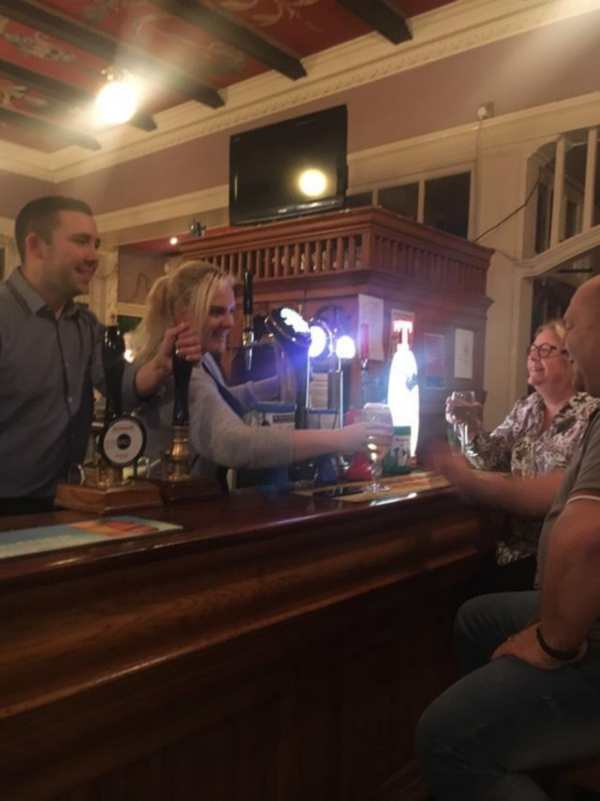 left/ right Calum Wilson, partner, and Michelle Wilson with smiling customers!

"This isn't just a bar and microbrewey; it's been a key community hub for nigh on 110 years no. We have so many groups that use this place as their base as well as my large group of regulars who come here not only for a bit banter with the staff, but to meet up with friends, enjoy our live music and dine with their families."

Dr. Gordon Prestoungrange said: "We look forward to The Gothenburg continuing to offer the community a place where they can spend time with friends and family under Michelle's leadership. Michelle has impressed us with her enthusiasm and energy. She has clearly made a significant contribution during her time as the General Manager and before and comes highly recommended not only by Sean, but by countless members of the community who have taken the time to show their support for her.

"Sean has made some excellent improvements to the establishment and it continues to benefit from its outstanding legacy and reputation. Michelle will continue to ensure The Goth's role in the community and will stand by the ethos upon which it operates, supporting the arts, community groups and the wider community, not just of Prestonpans, but East Lothian."

N.B. Importantly, plans are already in hand to resume regular active brewing in the Fowler's microbrewery facility at The Gothenburg. Watch this space! Watch for Fowler's Wee Heavie ….




Published Date: November 30th 2018