What Wouldn't We do for Scotland? Book Launch @ Garioch Centre, Inverurie August 22nd @ 7pm
Important and fascinating 'new' book on the Scottish Diaspora Tapestry

Arran Johnston has been involved both as a stitcher for the Diaspora Tapestry and as Lead Manager for myriad exhibitions since 2014. And all the while he was undertaking participant research and analysis of the 'celebrity' phenomenon that tapestry has become. Now with over 250,000 visitors and 44 exhibitions to its credit, he's penned this new book giving intriguing insights in what Scotland's diaspora seemingly means today for those who stitched across 34 countries to create the 304 panels. He's drawn some surprising conclusions and using the tales from the panels themselves gives a unique and extraordinary new perspective.

And Yes, he does have an answer to share: this was/ is what 'they' would do, and do again, for 'their' Scotland!

N.B. The first Book Launching Talk by Arran Johnston took place at Garioch Heritage Centre, Inverurie, Aberdeenshire where the tapestry is currently displayed, on August 22nd @ 7pm. He got a good crowd and was kept busy proudly signing copies …..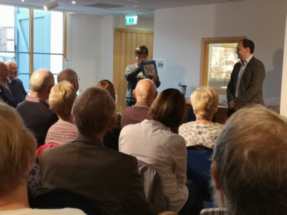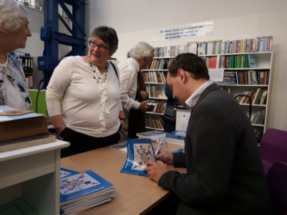 The book itself is of course available at Garioch Centre and also online at £8/ US$12/ €11 + postage and packaging or over the counter at The Prestoungrange Gothenburg, Prestonpans. Online its HERE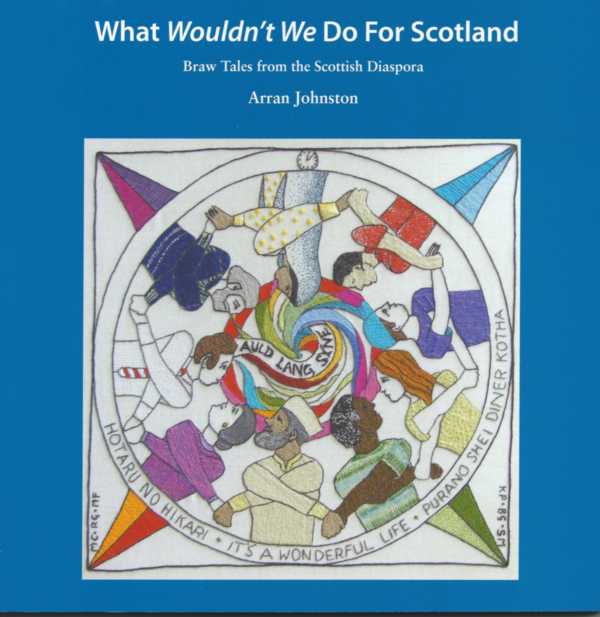 Here's the blurb!

'The Scottish Diaspora Tapestry project was ambitious, but its focus on community and its encouragement of personal stories created a level of engagement so great that it surpassed all expectations both in quality, scale, diversity and visitor appeal.As a result of its creation,understanding of the nature, extent and legacy of the Scottish diaspora has been dramatically increased for anyone the tapestry has touched. Stitchers and visitors alike speak of the tapestry with words of amazement,pride and kinship; it encourages a shared sense of identity, cultural association, and simple belonging. Even those without direct Scottish links of their own are bound by their contribution to the tapestry.The process generated new friendships, revived old memories, and encouraged stories and experiences from around the world to be shared with a common focused goal. Perhaps this tapestry, like the
Bayeux before it, will enthral audiences for many centuries to come'.

______________________________________________________________________

P.S. Apart from also downloading the entire tapestry [in English/ Gaelic/ French/ Italian] today to your mobile's APP [Apple & Google @ scottish diaspora] it is on tactile display until October at Garioch Heritage Centre, Inverurie, 10am/ 4pm excluding Sundays & Mondays!

Published Date: August 26th 2018