Proud of our County's Weekly Newspaper of the Year!
Not surprised but great news! We've got Scotland Best Weekly Newspaper here in East Lothian - our East Lothian Courier

Newspapers have been/ still are having a rough time of it in today's digital world but ... as we all know in East Lothian, we've been fortunate to have a great Editorial Team led by Robbie Scott. They've given us a great newspaper that keeps on selling and attracting the advertising ... long may they prosper.

In the picture below Robbie Scott and Content Editor, Sam Berkeley, can be seen collecting their well deserved Trophy for 2017. And behind the scenes we know that on our patch in Prestonpans/ Port Seton/ Cockenzie & Tranent most of the fieldwork is done by the redoubtable Marie Sharp, to name names. It's because she's never a 'soft touch' for anyone's blethering PR but always insists on digging deeper - nowhere more resolutely than over the past 5 years for the Power Station Saga - that we value the East Lothian Courier every week.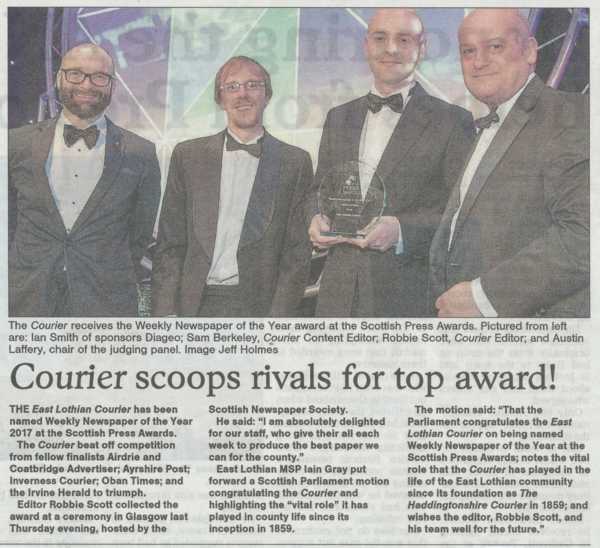 Raise your glasses to the East Lothian Courier team ... for well merited recognition.
_______________________________________________________________________

P.S. They're also very wisely sponsoring our Scottish Battlefields Trust initiatives, and Editor Robbie Scott has 'Walked The Riggonhead Defile @ 5am' .... but those are not the reasons for these congratulations.

We are very fortunate to have such a team and such a newspaper. We must count our blessings. Most communities no longer have.

Published Date: May 4th 2018