Parade, Encampment & Re-enactments for Battle of Prestonpans Commemoration Programme Announced: September 15th/ 16th 2018
The 1745 Battle Trust in partnership with Scottish Battlefields Trust is delighted to announce ....

The Commemoration Programme for September 15th/ 16th 2018. This will be the grandest occasion since 1995 when the 250th Anniversary was commemorated.

It is in presented collaboration with the Clans today that 'Came Out in September 1745 with The Prince' and the 'Representers of the British Army Regiments' that fought and lost that day.





It begins from 10am on Saturday September 15th with a Parade starting from the Battle Bing at Meadowmill, close by the ancient battlefield, passes the new Prestonpans Miners' Memorial en route to Greenhills via Schaw Road and on to Appin Drive with streets to its left and right named after those who fought ... Gardiner Road/ Crescent, Cameron Way, MacGregor Pend, Keppoch Crescent, Glengarry Crescent, Clanranald Avenue, Perth's View, Glencoe Path, Atholl View, Struan Wynd and Robertson Avenue....

THE FULL DETAILS OF CLANS AND THE PROGRAMME ARE DOWNLOADABLE HERE

Parade Banner Making in schools and Clan 'Briefing' Invitation Nights at the Gothenburg will be a feature of the coming months in the build up to the weekend.

As the detailed Programme shows, exhibitions are also running across three weeks in September of the 103 metre Prestonpans Tapestry at Cockenzie House and the braw Paper Armies in the Thomas Nelson Suite at The Prestoungrange Gothenburg. The late Andrew Hillhouse's 1745 Battle paintings will also be on display throughout alongside battle portraits by Kate Hunter of both The Prince and Sir Johnnie Cope.

This Prestonpans weekend is the third in the East Lothian County Battle Triennial Cycle which sees Dunbar 1650 and Pinkie Cleugh 1547 also commemorated under the aegis of the Scottish Battlefields Trust. It is proudly supported by East Lothian Council and The Courier as well as by EventScotland.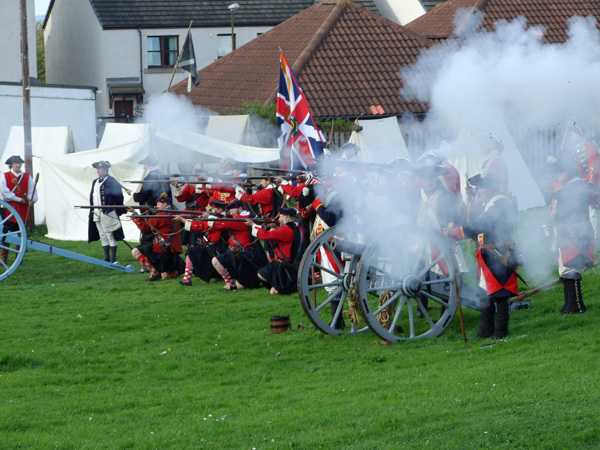 _______________________________________________________________________

Participation in the Parade and Remembrance from 10am/11am is free of course but there is an Entrance Donation Fee asked for the Encampment and Re-enactments - from 11am/ 5pm both days. Catering and beverages for a whole day Family Event are available.

The Very Good News is that there's an Early Bird Entrance Donation Fee of £3/ £1.50 Concession from 11am/ 12noon; thereafter it's £6/ £3 Concession. All proceeds go to support the charitable work of the Scottish Battlefields Trust and the 1745 Battle Trust.



Published Date: July 9th 2018