Cockenzie & 1745 Battlefield Master Plan Published .. linked here online
A great deal of good news here for the community at large & the battlefield in particular

It's obviously just now a moment for 'initial' reactions, but all the omens look good if* ELC adopts and carries forward the Zonal Suggestions of the Master Plan now published for the lands it is acquiring from Scottish Power/ the old Cockenzie Power Station.

The Full Report is linked here MASTER PLAN

Green areas to be preserved and enhanced ...

The Master Plan proposes that Greenhills, the green ribbon running south to the 1745 battlefield, the battlefield and the 1722 Waggonway should all be preserved as key elements for the future. They are proposed as an integral component that will mark the overall plan a winner.

The site of the old Power Station and hinterland with its former Coal Store are, as anticipated, proposed as the focal areas for future industrial/ commercial development to world class standards.

The rail link which runs across the battlefield to the former Coal Store is seen as potentially remaining and affording good access to the new pattern of activities.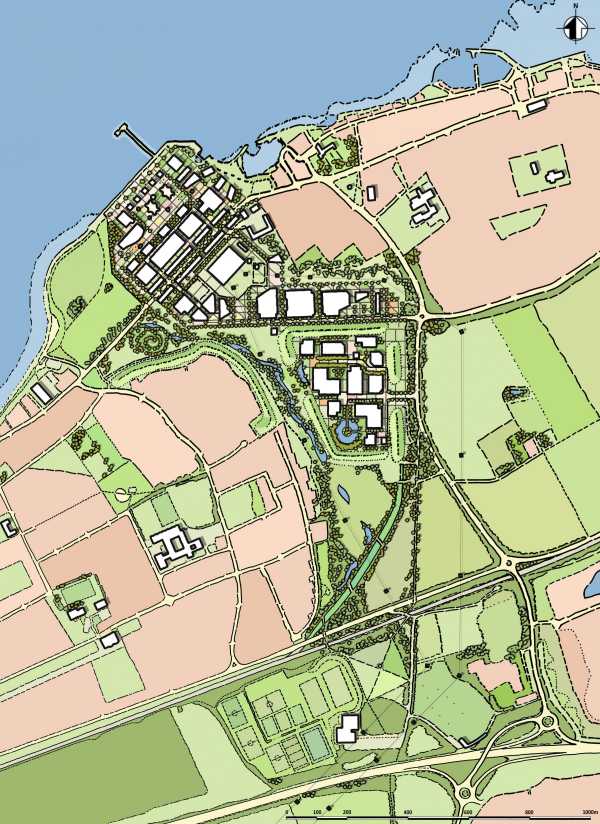 Battle & Waggonway Trusts can take comfort pp.63/65 ...

Both these two Heritage Groups which, in partnership with the Coastal Regeneration Alliance [CRA] lobbied hard for their historic assets to be conserved and enhanced, will take comfort. Much still to do of course but, providing ELC adopts the zoning suggestions they can both carry their plans forward sooner rather than later in partnership with ELC.

The 1745 Battle Trust of course is keen to see agriculture resumed on the Waggonway and Thorntree Fields and has a farmer ready to move in immediately! It also has two new Gardner Molloy sculpted Memorial Tables to be dedicated on September 15th 2018 commemorating the Clans and Hanoverian Regiments that fought in 1745. That will be a big occasion. Even more ambitiously it is pondering how best to ensure, close to the battlefield, where its 'Permanent Home for the Prestonpans and Diaspora Tapestries' might conceivably be located - and more besides.

So far so very encouraging then ....

_________________________________________________________________

* [Ed.] ELC, publishing the Master Plan this week specifically states:

"The document does not represent any agreed Council policy or settled outcome for the future of the site. Instead it serves as a basis for further reflection, discussion and engagement between key stakeholders."



Published Date: November 15th 2017