Cuthill - Crieff - Carlisle - Helmsdale - Irvine - Lorient - and a Cruise?
Tapestries always on the move! Will they settle as Cuthill finally has for a Pans Townscape?

The Murals Fest each year in Cuthill Park, which Tom Ewing has led since it reopened, has finally settled for a Townscape - completed in this year's 3Harbours Festival. Built on a Murals Town Idea from Sheffield Tasmania which Tom visited, each year a theme was taken and half a dozen artists created small artworks to hang for the year. But as Cuthill's Personality has blossomed over the past 5 years it was felt a better contribution in 2017 would be a single longer-lasting Townscape. And so we have it along the wall painted straight to the brickwork.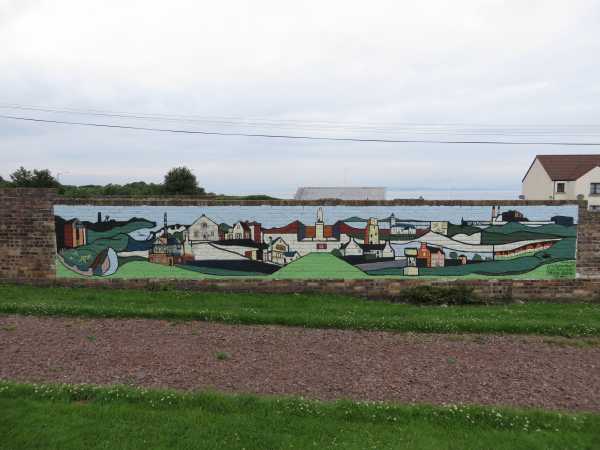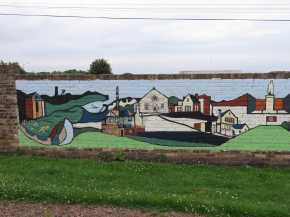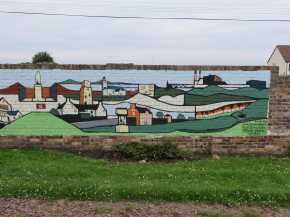 The town's two tapestries are still at the ever changing stage of their lives however

..... although plans for a permanent home for them both in The Pans seem a little closer! Here's hoping and dreaming then ....

Meantime the now famous Orange Tapestry Van that is here pictured by the Cuthill railings has many a mile to travel yet. It's take-down time in the Scottish Parliament this weekend for the Basttle; next up is Crieff for the Diaspora; then Brittany at Lorient for the Battle Tapestry; then the Diaspora's off first to Helmsdale then to Irvine; then it's at the Edinburgh Arts Fair in the Corn Exchange and Carlisle next Spring with a cruise scheduled around the British Isles for August 2018 ...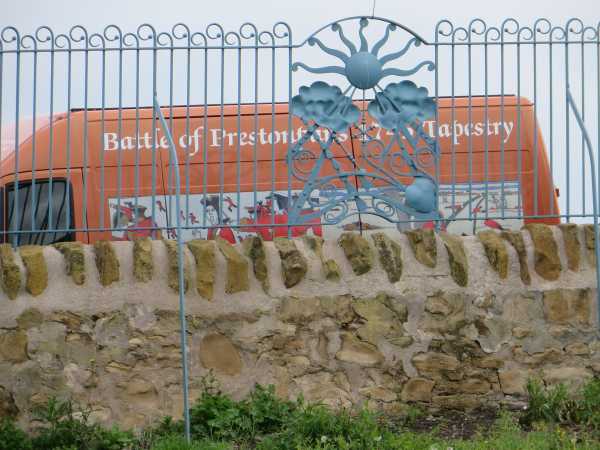 Visitor numbers grow all the while, many coming back to see them again and again ... over 500,000 for the Battle Tapestry since 2010 and approaching 200,000 for the Diaspora since 2014, including its RTW-Global Tour, and there's a hint that 2018 might even see a new Baltic Nations Tour as well.


Published Date: July 19th 2017