The Prince's Prestonpans Tapestry Goes to Holyrood: June 21st/ July 20th
Holyrood Exhibition for Battle of Prestonpans Tapestry - 10am/ 5pm excluding Sundays

It is with the greatest delight that the 1745 Battle Trustees announce that, with sponsorship and support from Iain Gray MSP, an exhibition of the Prestonpans Tapestry will take place at Holyrood in the Scottish Parliament this summer.

The tapestry has already had in excess of 500,000 visitors across the nation together with those in Bayeux and St Nazaire-Pornichet when it was displayed in France - whence it returns once more this August for the Festival-Interceltique in Lorient.

The Holyrood exhibition comes at a time when the creation of the tapestry's permanent home in Prestonpans is now top of the Trust's agenda and such a high profile exhibition is one more important way to speak up nationally for that result. The proposal is that whilst the tapestry will be a most significant feature, a comprehensive living battle history centre will be created which explores the many local connections with the Jacobite Victory in September 1745 and becomes a hub for a nationwide and international Jacobite Trail. The Trust throughout makes deliberate use of the Gaelic with active support from Bord na Gaidhlig because that September its was the language of the great majority of the Highlanders present.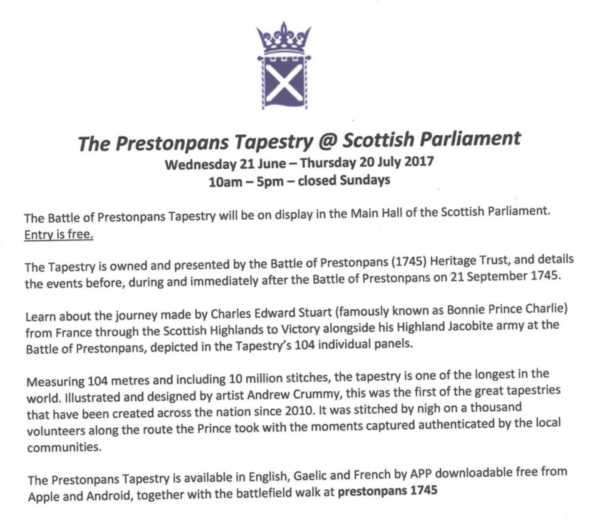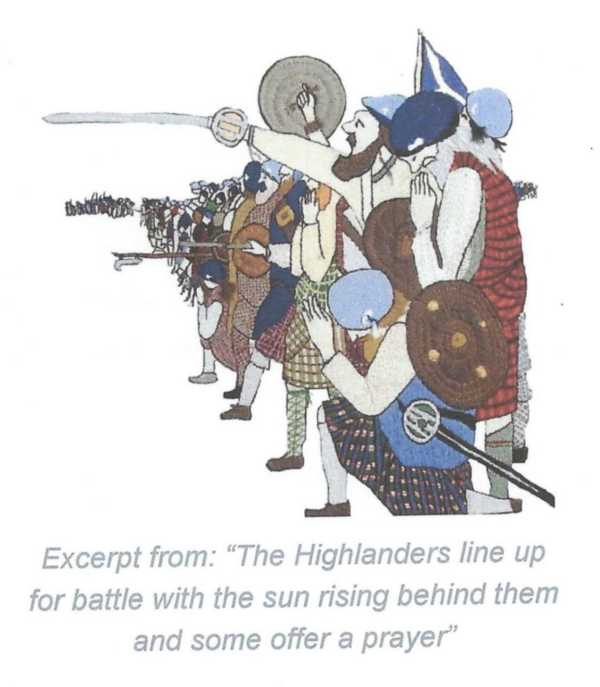 ________________________________________________________________

Some comments from Parliament's website:

.... It includes 10 million colourful stitches, took 25,000 painstaking hours to complete and depicts the journey of one of Scotland's most famous historical characters.
The Prestonpans Tapestry ... tells the story of Bonnie Prince Charlie's triumphant passage to and across Scotland.
The tapestry is one of the largest in the world and illustrates the Jacobite victory at the Battle of Prestonpans against the redcoat British Army on 21 September 1745.

The artist Andrew Crummy .... worked with many hundreds of stitchers in Scotland, France, Australia and the USA to bring the story of Bonnie Prince Charlie and the Jacobites to life in this piece of art.

'The Presiding Officer, the Rt Hon Ken Macintosh MSP, said: .... 'This free exhibition is a great opportunity for visitors to follow in the footsteps of Bonnie Prince Charlie, his journey to Scotland and the spectacular Jacobite victory at the Battle of Prestonpans.
Families, and visitors of all ages, will be able to track the Prince's steps across Scotland from almost 300 years ago. The Palace of Holyroodhouse even makes an appearance in the tapestry as one of the Prince's stops after his success on the battlefield in Prestonpans'.

Andrew Crummy said:
'It is truly an honour to have The Prestonpans Tapestry displayed in the Scottish Parliament. As a community arts project, it illustrates what happens when many people come together and use their creativity to create a large scale artwork. In particular, it's great to celebrate the creativity of the many women who played their part in this tapestry with their amazing embroidery skills.'




Published Date: May 31st 2017