Excellent News from Pans' Community Council ...
'Tis Music to the Battle Trust's Ears ...

The 1745 Battle Trust, which is hopeful of restoring the BathHouse at Prestongrange Museum as a home for the town's two tapestries battle exhibitions and more, is delighted at the initiative lately taken by The Pans' Community Council. It is immediately ready, as invited, to join the Heritage Group that is being established.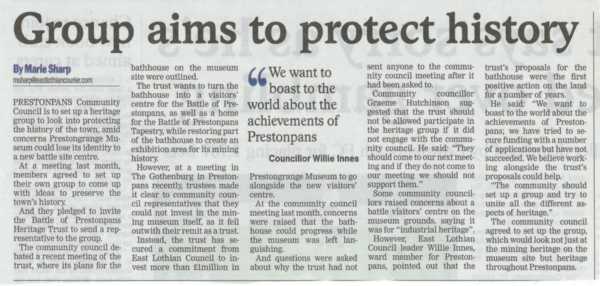 It has been the Battle Trust's ambition throughout the design stages for the proposed restoration that [i] the Bath House itself should be well interpreted alongside the battle and tapestry displays and [ii] that all the extant Museum activities and locations should be further developed.

Much has been done since 1997 by the Battle Trust's sister charity, the Barons' Courts with the Prestoungrange Arts Festival, to record and share the community's heritage not least through the 50+ murals, the original initiative to reopen Cuthill Park, the restoration of the Gothenburg, the Witches' Remembrance, Fowler's heritage, the Prestonpans Pottery exhibition and myriad publications. All this complements the excellent archives that ELC Museum Service already has which are frequently on display.

Willie Innes is right .. we must be bold ..

It's not the case that Prestonpans was just a coal mining community. Indeed coal only came to dominate in the late 19th/ first half of the 20th centuries after water pumping technology made it fully possible. The Pans were users/ value adders to the coal hereabouts on a grand scale from the 12th century from the origins in salt panning through glass making, oyster farming, chemical manufacture, pottery, bricks and brewing - all with the advantage at Morrisons Haven from the 16th century of a Customs harbour.

To be successful and attract visitors from far and wide, we have to be World Class. Nothing less will suffice.




Published Date: March 5th 2017