Ottawa hosts final exhibition of Diaspora Tapestry's Canadian Tour
Visitor numbers on global tour pass 100,000 as tapestry heads for its final month in Ottawa

Jenny Bruce will lead the final Canadian exhibition in Ottawa in January 2017 before the tapestry returns via Iceland to London in March/ April 2017.

It's already had over 100,000 visitors since it left Scotland for Bergen in Norway in March 2015; since then travelling to Veere, Barga, Picinisco, Paris, Goolwa, Adelaide, Hobart, Albury, Wangaratta, Sydney, Otago NZ, Victoria BC, Winnipeg, Montello, Scarborough Toronto, Charlottetown PEI, New Glasgow NS, and Montreal ....

... add these to the 2014 exhibitions in Prestonpans, Edinburgh, Stirling, Paisley, Inverness, Wick, Helmsdale, Doncaster and Corby and it's clear its well travelled in honour of the stitchers and of The Pans. And there are early plans already for a return across the Atlantic to the USA and Jamaica in late 2017/ 2018 after its scheduled exhibitions in Westminster Hall, at our own 3 Harbours Festival here in The Pans, then in Edinburgh and Crieff ....

But back to here and now for January 2017 .. the last chance to see and enjoy the tapestry in Ottawa as celebrations of the nation's Sequicentennial [150th since Confederation] begin!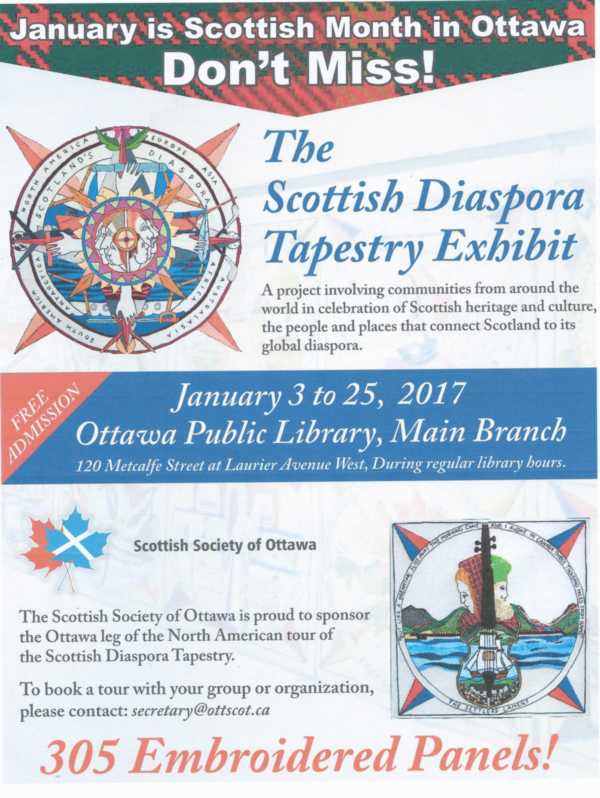 Published Date: December 16th 2016