P.E.I.'s Charlottetown gets ready for the Scottish Diaspora Tapestry's arrival afterToronto
Exhibition planned for The Concourse at the Confederation Centre of the Arts: October 8th - 22nd

'P.E.I.'s Scottish connection will be grandly celebrated in a worldwide art effort by Scots from 34 countries. They've created a giant 152 metre tapestry which goes on display in Charlottetown from 8th/ 22nd October.

[CBC News Post: Sep 13 2016 8:16 PM]

'The tapestry is made up of 305 individual panels, each telling the history of Scottish people in different countries.

'One of the world's largest community art projects is coming to P.E.I. because P.E.I was one of the contributing groups, and 5 panels were made right here telling about this Province and sewn by Island stitchers.

'It's called the Scottish Diaspora Tapestry, and was the idea of a heritage group in Prestonpans Scotland who wanted to celebrate the influence of their country worldwide.

Stuart McFarlane from Tweedbank, Scotland, knows all about the project, and joined Angela Walker on CBC Mainstreet to explain what the group was thinking when they started in 2012.

"How about if we contact the wider Scottish community, and let's look at maps, and let's identify countries and make contact with what we'd call the Scottish diaspora," said McFarlane, "meaning scattering, those Scots that have been scattered all over the world."

Scottish impact on P.E.I.

'Scottish cultural groups were contacted in each place, and asked if they would like to contribute to the tapestry. "And give them the opportunity to tell them their own stories about how Scots have made an impact in their own communities," said McFarlane. "Narrative Tapestry is a unique way of telling how Scots have really made an impact globally," he said.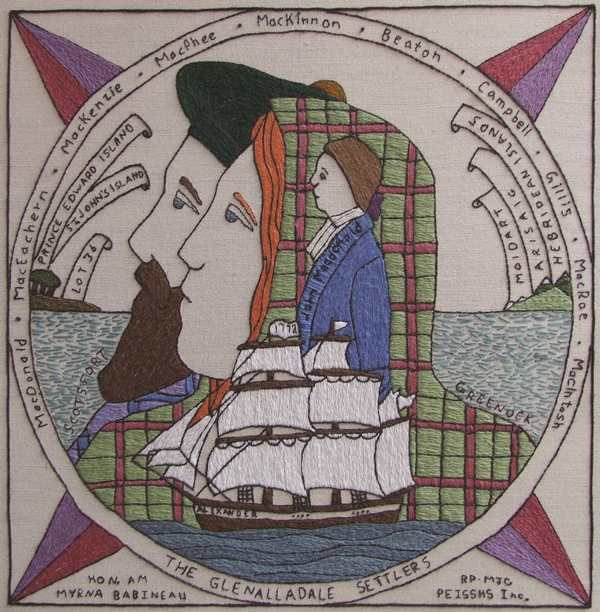 The local Scottish groups were able to pick the stories they wanted to tell, and that included five from P.E.I.. They tell of the landing of the Glenalladale Settlers in 1772, one depicting the building of a pioneer's first house, a panel to honour the Scots involved in Confederation, one titled Keep The Faith recognizing 300 Catholic Highlanders who arrived in 1772, and a final one called The Landing.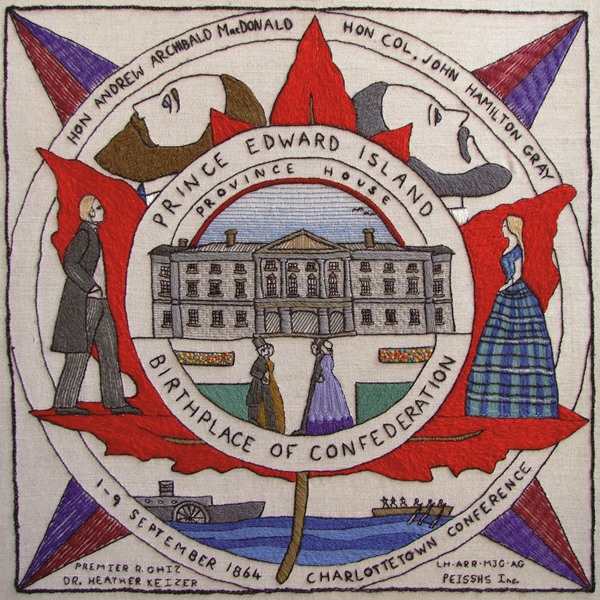 "The Landing shows two Highlanders bringing ashore their belongings beneath the red cliffs on the north coast of what was then known as St. Jean's Island, of course renamed as Prince Edward Island in 1798," said McFarlane. "So that captures the early arrival of Scots, Scots that were very much of a working class background."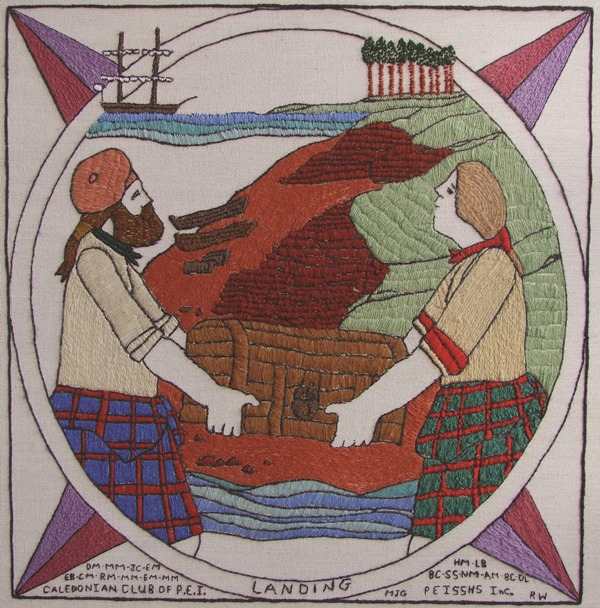 Island stitched

All the stories were submitted to Scottish artist Andrew Crummy, who drew the individual panel designs, which were sent back to the local groups for approval and then to do the needlework.

"The stitchers within P.E.I. got together on Aug. 21, 2013, to start the stitching process," said McFarlane. "And at that exact same time, other communities from various parts of the world were also starting the job of stitching and creating their own images."

'After it all came together, it was assembled back in Scotland for unveiling and exhibitions there in 2014 followed by 'optional' tours to various countries involved throughout 2015 & 2016.

This year, the tapestry panels have crossed North America after arriving from New Zealand in March, and will arrive in P.E.I. for display in The Concourse at the Confederation Centre of the Arts from October 8 - 22.


Published Date: September 20th 2016