Hope indeed springs eternal .. and it's Spring Again!
Living History and Tapestry Home a step closer for The Pans?

Ever since its establishment in 2006 the Battle of Prestonpans [1745] Heritage Trust has campaigned for the creation of a Living History Centre telling The Prince's Tale of Hope, Ambition & Victory - the Trust's strapline!

It was always going to take a wee while and when the magnificent Prestonpans Tapestry was designed by Andrew Crummy and created in 2010 by stitchers across the nation and in France, well, its putative dimensions became even greater.

In 2010 the Trust shared its Dream with ELC's Petitions' Committee who felt it to be a grand idea, and Cllr Willie Innes, then Leader of the Opposition, suggested it should be located at Prestongrange Museum. That was, and remains, a grand idea in that the presence of a Living History Centre + the Prestonpans Tapestry would very much increase footfall for all the other aspects of heritage at Prestongrange. Serious forecasts indicate 100,000+. And it would create a tourism model that generates repeat visits rather than single outings - always the ambition!

Fast, or rather slow, forward six years to 2016 and a vital element has now been put in place for Prestongrange - ELC Council's Budget in February set aside £640,000 in its future Capital Budgets for Prestongrange Museum. This is not for the Living History Centre per se but for the vital renovations/ improvements necessary for the existing Prestongrange facilities.

As the report in the East Lothian Courier describes, a Joint Working Group of the Battle Trust and ELC will now meet under the chairmanship of Cllr Tim Day, with 100% backing from Cllr Willie Innes now Council Leader, to move it along expeditiously. The Council and the Trust have agreed to meet a deadline for the Trust's submission to the Heritage Lottery Fund this summer as the Trust begins its nationwide campaign for £6m to create a world class Living History Centre and Permanent Home for the Prestonpans Tapestry. [The Trust has to date collected £130,000 in small donations so that it can invest in this audacious proposal.]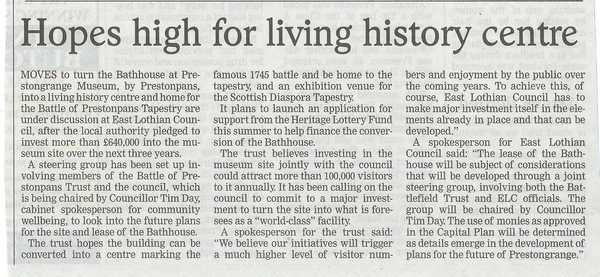 Hope springs eternal - .. and it's Spring Again! ... it looks like serious talking might begin now on April 13th ...


Published Date: March 5th 2016