Goth's Future Determined! Debate on February 19th resolved unanimously to make the future happen!
Question 1: Answered in Affirmative

The unanimous conclusion from the community-at-large gathered in the Thomas Nelson Suite at The Prestoungrange Gothenburg on Friday night was: what has been achieved to date has been most worthwhile and the future should include more and, of course, be even better!

So, the East Lothian Courier's Billboard proudly shown below struck a nerve or two!

So on to Questions 2 and 3 ....

Qu. 2: How can the reconstruction be funded through a social enterprise as the community exercises its 'right to buy?'

Chance they say is a fine thing and in an uncoordinated, but most welcome initiative, Elaine Gale* has convened timeously exactly the discussion forum we needed. Where? Well, where else but the Gothenburg itself!

Here are the details .. be sure to go if you possibly can. And if you can't, email Elaine anyway @ elaine@socialenterpriseineastlothian.org.uk

Elaine wrote to "introduce myself as the Network Development Officer at SEEL (Social Enterprise East Lothian).

"My role is to run and develop the network for social entrepreneurs across the county. Offering 1:1 mentoring, support, strategic business planning and financial advice to people who set up businesses that trade for community benefit.

"The network is becoming known as one of the most vibrant and diverse in Scotland. We have well over 100 social enterprise members in East Lothian and I am currently working in partnership with East Lothian Council, QMU and Hibs football team.

"I am about to be working extensively in the Prestonpans area during the next six to nine months and will be partnering Coalfields Regeneration Trust on one interesting initiative.

"... and our next meeting will be in the Lord Mayor's Bar @ Prestoungrange Gothenburg next Friday 26th February from 9.00 am until 12.00 pm. This is the schedule:"


9.00 Refreshments and networking
9.30 Introduction and welcome to social enterprise at The Prestoungrange Gothenburg

9.40 A talk by Simon Glover – Community Re-Use, Innovation and Creativity

10.10 A talk by Antony Stone - Venturing Out

10.40 A talk by David Cousland - Head of Social Enterprise Lending at DSL Business Finance

11.10 Refreshments and networking

11.40 Tracey Muirehead - School for Social Entrepreneurs - Scotland

12.10 Close [but can take excellent lunch downstairs!]

"I have attached a link to our latest film for information."
https://www.youtube.com/watch?v=wf-cc5e-gdM






Qu. 3: How will The Prestoungrange Gothenburg raise its game in the coming years to ensure a sustainable financial base for the continuation of its treasured 'Gothenburg Principles?

Great answers emerged here as well on February 19th. Pledges from clubs to locate were made; Jazz and a Supper Club suggested; War Gaming was launched; support was forthcoming for help with maintaining the fabric; ditto ideas from 'New Pans' to build networks and events; incoming brewers Sean Wood and Lewis Kent will soon have a very great deal to offer [from April 1st!]; 3Harbours as ever is a fine opportunity for the Gothenburg to shine not least with its sponsorship of the 3rd Scottish Seafood Festival early June this year, saltmaking, music throughout the 10 days; and in August there's the 10th Anniversary of the Totem Pole to enjoy ... that's before 81 Witches Remembrance .. and 1745 Re-enactments .....

But....more is needed! So be sure to speak with the team at The Gothenburg every day [except Mondays!] ... Anne Taylor, Carol Black and Andrew Laurie or BLT for short ...

...and have you seen Chef Andrew Laurie's rotating fortnightly menu with a total commitment to local food and produce? If not recently, phone and book on 01875 819922 ....

BOOK NOW FOR MOTHER'S DAY MARCH 6th/ WEEKEND 4/5/6 ....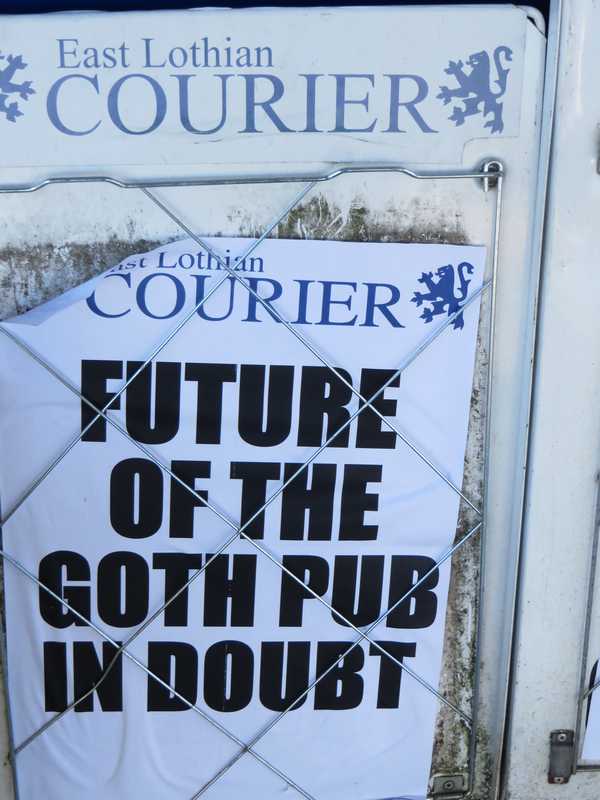 ______________________________________________________________________

[Ed: *Contact details are these. Elaine Gale, Network Development Officer - Social enterprise in East Lothian
www.socialenterpriseineastlothian.org.uk
https://twitter.com/ElaineGale2
Social Enterprise in East Lothian is a company limited by guarantee. Registered in Scotland. Company # SC358482/ Charity No: SC041049
Registered address: 1 Garvald Grange Cottages, by Haddington, East Lothian, EH41 4LL

Published Date: February 22nd 2016