Last Stop on the Continental Mainland - Centre Culturel Auguste Dobel in Paris
Now who's that looking at the Scottish Diaspora Tapestry in Paris?

It was October 23rd. It was Opening Day for the current exhibition in Paris at the Centre Culturel Auguste Dobel in Paris. And as fortune has it Scotland's Cabinet Secretary for Culture, Fiona Hyslop MSP, happened to be in town that day. We were delighted one and all to see her once again because the Scottish Government had been one of the tapestry's most enduring supporters.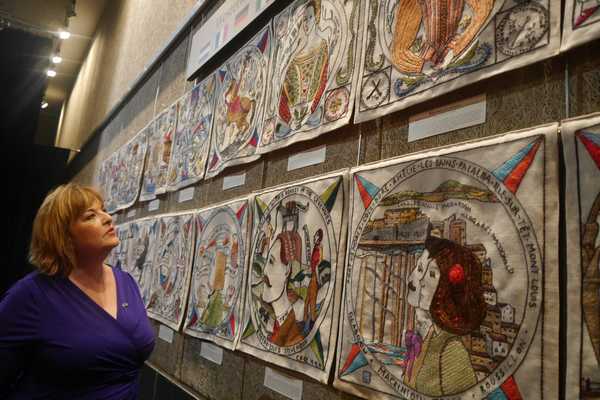 The tapestry had moved to central Paris from Boussy-Saint-Antoine, where the host of French stitchers were largely based after a two week exhibition there.

The Scottish Government's website kindly provided the following observations:

"One of the foundations on which a modern Scotland is built is the enduring relationship with France which dates back to 1295. The long standing treaty, Vielle Alliance, began when King John Balliolís relationship with England started to deteriorate. This period is displayed in the French section of The Scottish Diaspora Tapestry...




"If we delve back into the past, we know that many Scots were forced to migrate to escape persecution and famine. Thousands more left during the 18th century Clearances, while the expanding British Empire attracted trained doctors, engineers and scientists to pack up for warmer climes. Figures suggest more than 30 million people across the world claim and celebrate their Scottish descent. All of them have outstanding stories of interest to tell.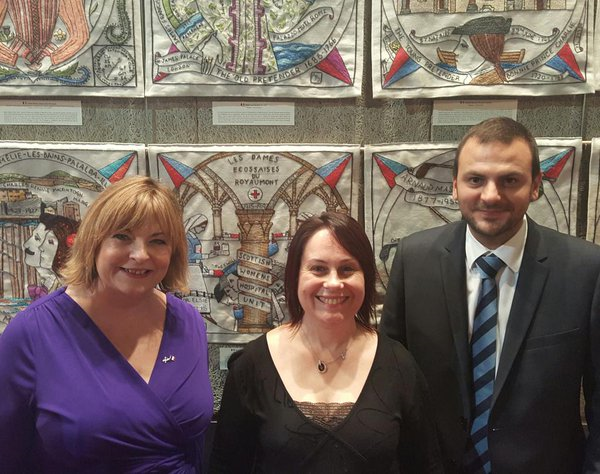 [Fiona Hyslop visiting Scottish Diaspora Tapestry in Paris with Valerie Fregona, Prťsidente Association Jumelage Boussy Saint Antoine and Romain Colas, Mayor of Boussy-Saint-Antoine]

The Scottish Diaspora Tapestry truly is is a sight to behold.

"I was invited to meet with Andrew Crummy, the tapestry's designer, in Cockenzie in 2013. The masterpiece was still in production and work was underway to make sure every stitch was in the right place. The tapestry played a significant part in Homecoming 2014 celebrations and Iím sure everyone, who had the chance to view it, was impressed.

"Sewing for the tapestry has taken place in a whole host of countries, including Australia, Argentina, China, Lithuania, Portugal, South Africa, and the US while France also features heavily.

"The French panels highlight the strong diplomatic and cultural bonds between Scotland and France such as the links with the Stuart Dynasty, starting with Mary de Guise, the French wife of King James V and mother of Mary, Queen of Scots, who served as Regent of Scotland before her daughter took the throne. Another panel depicts Bonnie Prince Charlie, the last great claimant of the Stuart Dynasty and his introduction to a Franco-Irish privateer, Antoine Walsh. He assisted in helping him acquire arms, ammunition and ships as part of his campaign to reclaim the British throne.

"Some of Scotlandís greatest athletes such as Eric Liddell are represented as is Robert Cockburn who established a port house in Portugal in 1815. Physician John Rogerson features in Russiaís entry. He looked after Catherine the Great, Empress of the Russian Empire in the 1700ís.

Fiona Hyslop commented: "I have huge admiration for the volunteers who dedicated their spare time to this wonderful tapestry. From the hours of research to the sewing itself, Iím sure each panel proved challenging. Itís estimated one panel took around 200 hours to stitch. Many volunteers also kindly translated their work before gifting their contribution to Scotland.

"The Scottish Diaspora Tapestry has travelled far and wide, touring Scotland last year as part of Homecoming 2014. This year, thousands of people have flocked to see it in Norway, the Netherlands and Italy. The tapestry was welcomed to Boussy-Saint-Antoine, France on October 3rd and proved popular with visitors and from there it has now moved to Paris from 21st Ė 29th October 2015.

"When this exhibition closes the panels embark on a journey to the Pacific. The tapestry will fly down under on 29th October 2015. It will tour Australia and New Zealand from November 6th to April 30th 2016.

"I would encourage adults and children of all ages to make time to visit the Scottish Diaspora Tapestry to see the depth of contributions made by Scots abroad across the Scottish Diaspora, which have touched upon so many corners of the globe. You may be a Scot, have connections to Scotland, visited as part of a family holiday or just have an interest! Whatever your connection, Iím confident the tapestry will impress."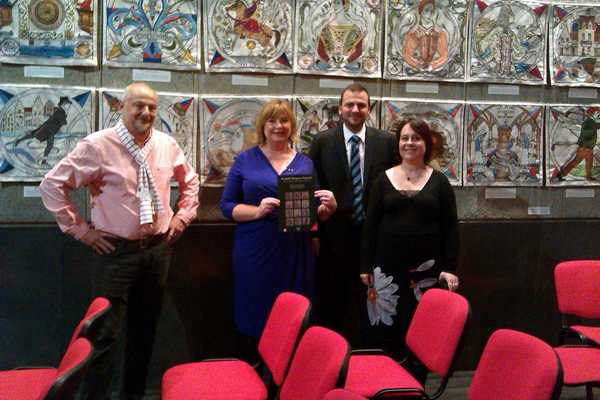 ______________________________________________________________

Before the Grand Opening of course, there was work to be done behind the scenes! Pictured below are The Stitchers team setting up including Andrea Cooley, Margaret in background, Kay Speirs left and Liv Kalkreuter - the Cultural Centre's leader.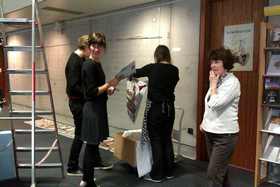 Published Date: October 24th 2015