Invergordon Paints On to Sixes and Sevens
Two More Murals Immediately Going Up ... and several more to come

Marion Rhind and her murals colleagues at Invergordon were well able to take advantage of the Global Conference in Prestonpns, inviting Karl Schutz and Jim Prigoff to call in on them over the extended periods of their visit to Scotland.

This reporter also made his way there the week following Conference to see the progress on the two new works being created by Anna Smith's Invergordon Pipe Band and Alan Potter's Invergordon Highland Games. [Alan Potter, it transpires, is a long time colleague not only of Andrew Crummy but also Carmel Crummy, from time together at the Chelsea College of Art where Alan was Dean of Art and Design and Carmel Chief Technician. Word is that love blossomed amongst the murals there!]

Anna and Alan appear below as does the Wiles bus that took us there [and to the Outer Hebrides later]!








.... and by mid September

Andrew and Carmel were visiting Invergordon to meet up again, as well as with Marion and Sony Rhin, to see what progress had been made. Marion was able to give a complete review of Anna's mural and as completed it is shown below.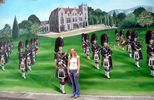 [Marion writes: Just a postcard to the rest of the Global Murals family now that Anna Smith and Lucy have finished the first in our next series of murals. Many of you will have met Anna at the Conference in Prestonpans in August 2006, and the picture was taken on her final day.

As you will recall our project is organised so that community groups are bringing out their stories of the town and writing the brief. Those behind Anna's are the 'Invergordon Social and Recreational Club'.

The tale recounted is from when entrepreneur Frank Thomson took over running the local distillery. He decided that the town needed a WOW factor and started a recruiting campaign for the distillery directly based on musical merit rather than distilling or coopering prowess. This positive discrimination [which of course is now illegal] led to the formation of a band that became World Champions in their day. The distillery must have rung with the sounds of their daily practising.

The Rowan tree depicted alludes to a favourite piping tune. And as we always find do we not, sons and daughters of many of the men portrayed in the photograph have given Anna lots of advice and encouragement during the painting. Can you spot the two left handed players ?

She is a brave soul as she did not have the refuge of a scaffold to hide behind, and was a fine ambassador for mural artists everywhere."]

Published Date: August 21st 2006