Cow Paraders from the Pans ....Grazing May 15th to July 23rd
Been There, Seen That?

Well yes, some readers will have seen the Cow Parade mania which originated traditionally in Zurich and was then emulated in Chicago ... which has since swept North America and then lately reached the UK at Manchester in 2005. And its now come to Edinburgh for 2006 as described at their website

Quite simply, its a charity fund raiser. Companies and individuals sponsor a life sized fibreglass cow [imported it transpires from Poland], paint it, parade it at and for attention in the host city for a couple of months and then see it auctioned off for charity. All good fun. In Edinburgh this year the dates are May 15th/ July 23rd.

Edinburgh 2006 will see some 100 pieces of such art work and three of them are being created at or close to the Pans. One is being painted by Craigmillar Arts Festival and two by the Prestoungrange Arts Festival. The Prestoungrange Arts Festival took delivery of two Pans Cows shown standing quietly in the Courtyard at The Prestoungrange Gothenburg.

Click on all images to enlarge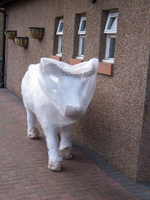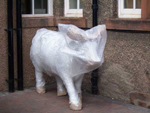 The Pans Artists

Mention of cows in the Pans immediately brings to mind Redburn Dairy and the elegant mural at the foot of Redburn Road painted by Adele Conn. One cow has accordingly been dubbed "her's to paint" for the Parade and is shown one week later below. It will be what the Edinburgh Cow Parade calls a 'Community Cow Parader' i.e. it will stay in the Pans on display all the while.

The second has now been painted by Tom Ewing + an Arts Class team in the best traditions, he tells us, of Damien Hurst, an alleged artist of some repute! This second beast will stand to and for attention in Edinburgh itself until the end of the Cow Parade Festival there when it will return again to the Pans.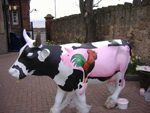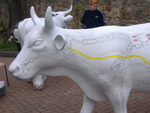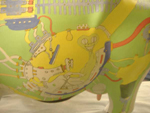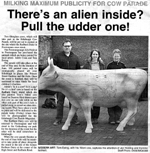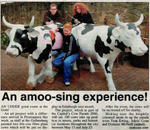 Charity Auction Not Needed for Our Cows!

The two cows here in the Pans have been acquired by the Barons Courts Charity ab initio, so once the Edinburgh Cow Parade Festival is done by July 23rd they will simply both be available in the Pans for our own future use. Ideas for that future are already bubbling, but the current favourite envisages an annual repainting design competition with perhaps some new born calves building to a small herd by 2008 when The Prestoungrange Gothenburg celebrates its Centenary...

..... watch this space for how the 2006 Edinburgh designs finally settle in to the Edinburgh Cow parade full catalogue; and what the future indeed holds in store for these new found friends of the arts community in the Pans.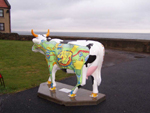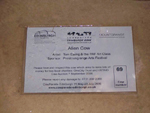 Published Date: April 9th 2006