Megantic Outlaw comes home to Scotland
Global Murals Conference in Sherbrooke, Quebec was the catalyst

Donald Morrison died shortly after his release from gaol in 1894. He was there for shooting in self-defence and killing Constable Warren in the Eastern Districts of Quebec .... a moment now captured in the Scottish Diaspora Tapestry by the stitching fingers of Jane Loiselle. His argument with the forces of law and order was about the loss of their tenanted family farmlands. The search for him was one of the largest manhunts ever mounted in Canada and he evaded capture for more than two years with the support of the local Gaelic speaking Scots community where he lived.

Prestonpans' membership of the Global Murals Association, whose Global Conference was in The Pans in 2006 when the totem pole was created, was the particular trigger for this panel. And Gordon Prestoungrange, as current President of that Association, was in Sherbrooke for the 9th Biennial Conference and was able to carry it back home to Scotland. But not before it had a good showing in Quebec and good radio coverage with CBC's Breakaway programme on August 15th.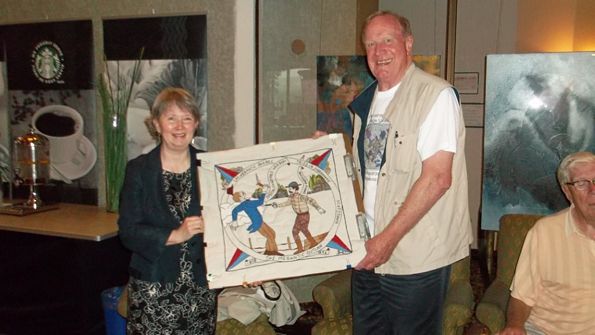 Jane Loiselle, and her husband, both have Scottish roots. Jane's grandmother, Jean Buchanan, left Edinburgh as an 8 year old orphan to come to Canada and it was she who taught both Jane's mother and Jane herself how to stitch. It's a skill that Jane is the first to admit had been neglected awhile, but she gladly took up the challenge as part of such an exciting global enterprise.



Published Date: August 17th 2014