1745 Battle Tapestry returns to Perth ... in St John's Kirk from June 13th/ July 31st
Salutation Inn was an historic meeting place for the Prince, the Duke of Perth and Lord George Murray

The 1745 Battle of Prestonpans Tapestry is making its second visit to Perth, exhibiting in St John's Kirk Perth from June 13th/ July 31st. It hasn't been in the city there since appearing at the Salutation Inn in September 2010.

It's an opportunity for many who missed that visit to have their first sighting and, if experience is anything to go by, for many who saw it four years ago to take another close look. This magnificent artwork never fails to raise the spirits with its extraordinary colours and fine stitching by so many Scots people across the nation.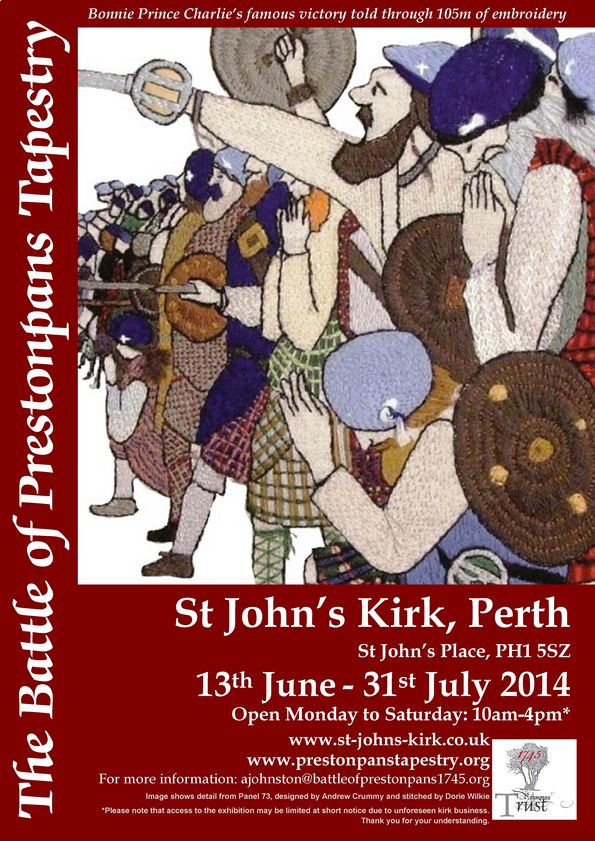 There's a very particular panel in the tapestry telling of the Prince's six days in Perth in September 1745, stitched by Jacquie MacNally and shown here below: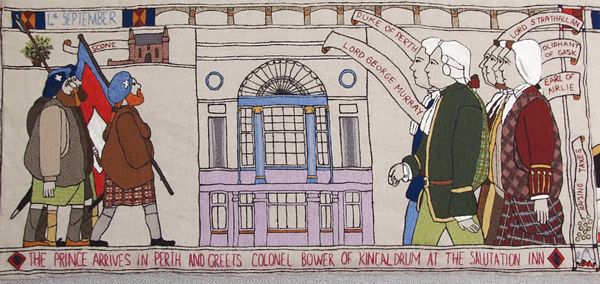 The historical narrative for Perth reads:

Cameron of Lochiel had gone ahead and occupied Perth whilst the Prince rested at Blair Castle. On September 3rd the Prince followed, marching through the Pass of Killiecrankie to Dunkeld and arriving in triumphal procession in Perth on the evening of September 4th. He set up his headquarters in the Salutation Inn personally staying at Lord Stormontís home nearby.

One most welcome visitor was Colonel Bower of Kincaldrum whom the Prince saluted outside the Inn [giving it its name. That public greeting was later to be used in evidence against the Colonel in his trial in York as a Jacobite.]

During the week the Prince busied himself raising taxes and seeking additional troops. Oliphant of Gask joined him as did the Earl of Airlie. Viscount Strathallan came with some cavalry and James Drummond, Duke of Perth, also volunteered. Most significantly of all, Lord George Murray, a 50 year old man and younger brother of the Duke of Atholl with considerable military experience lately in support of King George II, now joined the Prince. Murray was immediately appointed Lieutenant General and Deputy Commander of the Highland army. The Duke of Perth was given a similar rank.


Published Date: June 8th 2014