Celebrate ... Scots who built new lives around the globe!
Celebrating the Commonwealth Games in Prestonpans

Following a successful grant application to the Big Lottery Celebrate Fund, Prestoungrange Arts Festival will be holding a number of free events over the coming weeks to celebrate the connection between Scotland and the Commonwealth.

The focus of these events will be the Scottish Diaspora Tapestry which will be launched at 3 Harbours Arts Festival on 31 May – 8 June at Prestonpans Community Centre.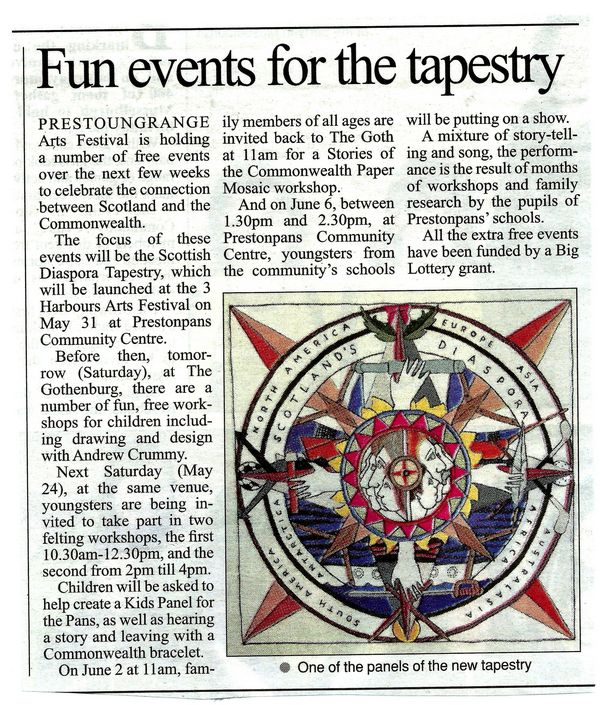 17 May (10.30 -1pm) The Prestoungrange Gothenburg, Prestonpans.

A number of fun, free Workshops Galore for Children .... including drawing and design with Andrew Crummy, Storytelling, Learn to stitch, and Felting Workshop: drop by and make your bracelet or badge in colours of the Commonwealth. Then help make our The Commonwealth Family Tree by adding your own felt leaf to its branches. Learn how to stitch with the diaspora tapestry team.

24 May (10.30 – 12.30 and 14.00 – 16.00) The Prestoungrange Gothenburg, Prestonpans

A great opportunity for the kids of Prestonpans to participate in one of two felting workshops. Help us felt a KIDS PANEL FOR THE PANS, hear a story and leave with your own Commonwealth Bracelet. Children should be accompanied by an adult. Booking essential tel 0750 3034019 or 01875 818684.

2 June (11am) The Prestoungrange Gothenburg, Prestonpans

Children, parents, grandparents, family friends are invited to join us for our "Stories of the Commonwealth Paper Mosaic Workshop". Listen to some myths and legends of India, New Zealand, South Africa, and Scotland then create your own paper mosaic of a symbol from your Commonwealth country to bring home.

6 June (13.30 – 14.30) Prestonpans Community Centre

Students from Prestonpans Primary, Prestonpans Primary, St Gabriel's and Preston Lodge High Schools weave together the threads of their own family history, and present them in story and song.

Come along and enjoy this performance, which is the result from months of workshops and family research by the pupils of these schools. Just come along! Prepare to be delighted by the talent of the Prestonpans schoolchildren as they sing and tell their own diaspora stories and connections to the Commonwealth.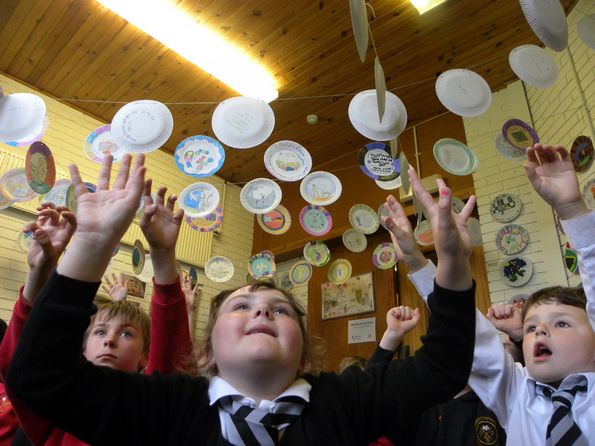 Published Date: May 17th 2014