Getting Started Yesteryear ..
1st and 97th Birthday @ The Gothenburg

Of course we first opened in 1908, but July 3rd 2005 is the first anniversary of our re-opening as we know it today - Gothenburg Principles in action for the Arts and those Arts seeking to regenerate our local Economy.

It is a timely moment to reflect back on three key moments in our contemporary renaissance.

September 19th 2000 saw Dr Karl Schutz, Founder of the Global Association for Murals Art and Cultural Tourism leading a 'Can We Do it Here?' Seminar at the Royal Musselburgh.

September 8th 2001 saw Kate Hunter put the first brush on the sea wall to begin painting the Morrison's Haven Mural - our first.

July 23rd 2003 saw the Lord Mayor of Gothenburg visit the town and All The Residents of Prestonpans were invited to see him unveil our latest Gothenburg/ John Muir Mural, also by Kate Hunter.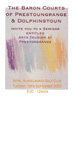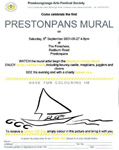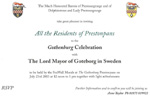 Published Date: July 3rd 2005