Of Offshore Rigs, Aluminium Smelting and the Royal Navy
Invergordon Launches its Murals Programme with Swindonesque inspiration

When Invergordon resolved with considerable help from Rural Voices [and words of counsel from Chemainus] to commence a major murals programme it turned first to an internationally renowned mural artist who cut his teeth on a Job Creation project in Swindon, England in the 1970s. But he is better known to most for Virgin Atlantic's Scarlet Lady and much other mural work for Sir Richard Branson across more than 20 years. Ken White is his name and the first two Invergordon works of public art were completed by June 4th when the team from Prestoungrange Arts Festival went visiting.

Town with a Challenge

The tale of Invergordon's determination to create murals to stimulate their local economy has familiar origins. It lies on the Cromarty Firth famed as a Royal Navy base for generations and more recently for its supporting role in North Sea gas and oil exploration and recovery. It also once boasted an aluminium smelter. Today most of that activity has gone and the what remains is a tantalising view of over 40 cruise ships each year mooring up and bussing their guests straight past the town to Loch Ness or other highly publicised locations. Itís a tale reminiscent of 29 Palms and California's Joshua Tree National Park!

But such a state of affairs will soon start to change. With close on £100,000 pledged [12 times Kurri Kurri's starting funds in New South Wales two years ago] up to a dozen and more murals are planned. And the main streetscape has already been renovated. Ken White's first two works, focused on the town's traditional industries and the work of the Royal National Lifeboat Institution are shown below, including the Invergordon murals crew 'en masse' including catalyst Marion Hind and a proud Ken White. A typical rig is also shown at anchor and a fascinating picture of both murals as reflected in the shop window of Invergordon MOT.

Click on images to enlarge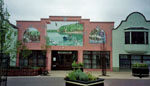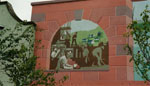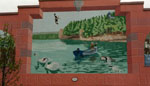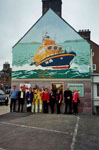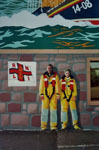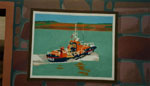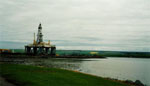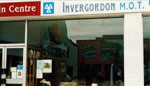 New and Future Friends in Art

The reception and hospitality received by the visiting Prestoungrange team was magnificent. One and all have promised to keep well in touch to share ideas. One team member from Invergordon had already visited the Pans with relatives and seen what has been begun there. And one and all are determined to see Invergordon's story told as it unfolds in the Global Association they are joining and at the August 2006 Conference. The town may well be on the northern tip of the Scottish mainland, just a few miles from John O'Groats and Castle of Mey, but its murals arts are mainstream.

....and in mid July we were delighted to welcome Marion Rhind, husband and Edinburgh friend at the Gothenburg with Andrew Crummy later proudly taking the party along our Murals Trail.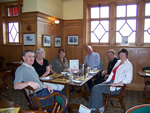 Published Date: June 4th 2005