Brunel - The SS Great Britain & The Clifton Memorial Bridge
A Hulk in the Falkland Islands & An Unfinished Bridge

The tale of Brunel's ship the SS Great Britain beggars belief. The world's first cast iron, engine + sail passenger liner it spent its mid-life laying transatlantic cables and its last days as a warehouse in Port Stanley before being scuttled. But yet, if only it could be lifted onto a raft, tugged back around the globe to Bristol and restored to its original condition, what a tourist attraction it could make.

35 years ago that is exactly what started to happen. And on July 19th 2005 it will be fully restored and ready to receive boarders. For the moment the finest facility on offer is the 1st Class Dining Salon as pictured below.

It stands alongside John Cabot's replica ship, the Matthew, built like the original in Bristol, in which he accidentally reached and discovered Newfoundland in the 15th Century. And not far down the quayside by the Industrial Museum there is an interesting mural on show as well.

Click on images to enlarge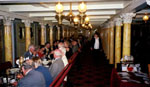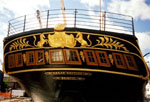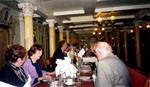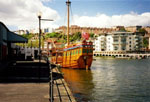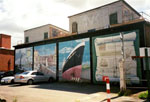 Brunel's Aborted Bridge a Fitting Memorial

Acknowledged as one of the greatest Victorian engineers working in cast iron, Brunel built the Great Western Railway [GWR], the SS Great Britain and myriad bridges from London to Bristol. But his career was launched as the winner of a competition to build a suspension bridge over the Clifton Gorge of the River Avon at Bristol. Alas the investors ran out of funding. It was not until after his death that the bridge was completed by his fellow engineers as a 'memorial' although many of Brunel's ancient Egyptian designs were omitted. The two gateways that Brunel did complete nevertheless clearly have that look if not the requisite ornamentation. The chains which hold the bridge 250 feet above the Avon were second hand, brought from the Charing Cross Bridge in London when it was replaced.

The SS Great Britain was launched before the bridge's completion so its return passage in 1970 was the first occasion it had been beneath it. And still growing there on the gorge to this day is the unique Bristol White Leaf.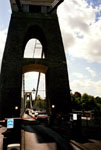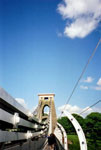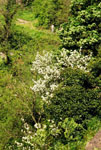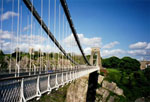 Published Date: May 7th 2005