Where Kati Kati Leads Many Will Follow!
Life After a 'Murals Rush'

Although Foxton is the 'Best Kept Secret in New Zealand' murals community, and holds title as 'Nearest to Antarctica', Kati Kati some 500km north in New Zealand has been pioneering mural art for a good deal longer – and has rightly been called the Murals Capital of New Zealand. In 1996 it convened the International Conference of Mural Towns that after several iterations led to the establishment of the Global Association which now convenes biennial conferences around the globe – already held in Chemainus, 29 Palms, Moosejaw and Ely with Prestonpans and Sheffield to come in 2006 and 2008.

There was therefore perhaps no more obvious venue to pose the question: 'What is Life After the Murals Rush' - a score of years after Chemainus showed that distinctive way forward. So this Roving Report from Kati Kati is predominantly a discussion of the issues raised and the futures explored – as well as a catch-up on some important murals items. Gordon Prestoungrange from Scotland was invited by the Murals Committee to set the debate going and the broad tenor or what ensued is captured below.

But first the catch up since the third Roving Report Visit - as pictured below, Barry's head remains safely in place, and an image of Sylvia Weber's tapestry depicting the Bay of Plenty created in France [Sylvia is sister of a local resident] can now be shown as it hangs alongside a superb historical wood carving in the Kati Kati Medical Centre.

Click on images to enlarge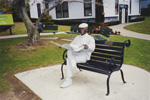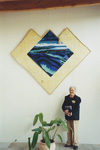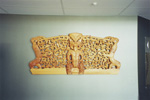 How Many Murals is Enough Murals?

It sounds an heretical question in a community that has devoted nearly 20 years to the task of painting murals, and has a Committee in charge of getting them funded, created, unveiled, admired and maintained, but of course every town knows it has to be answered.

Empirically it seems to be about 35/ 45. By then a host of factors will have influenced the end of the Murals Rush, but most significant seems to be the decline of the marginal impact the next one can hope to make. One more mural will clearly be an event of interest to the community at large, but cannot hope to generate anything like the pride or sense of achievement at large that arose from # 1 – 10. Other limiters on the Murals Rush have been discerned as 'weariness amongst the Committee at continual fund raising' or simply 'getting on a bit'. The more obvious local historical events and people may also have been exhausted. Or if the major initial purpose was beautification of downtown that task will have been accomplished to a considerable extent as for instance in Vale on the Oregon Trial or Lompoc California.

Murals as a 'Powerful Arts Catalyst' for any Town that Leverages

The evidence is that when [and frequently well before] muralisation of a town hits its empirical volumetric ceiling, art in myriad other formats starts to flourish out and around. The power of murals to act as an arts catalyst in this way is observable in almost every town in the Global Association. It seems to achieve it by both making art so very very public and also by that very fact enthusing and emboldening others. Sometimes the art that emerges strongest will be a deliberate statement by drawing or painting that employs quite different styles and manner of presentation. Drawing and art classes occur that quite definitely eschew the historical themes so very much at the heart of most mural town programs derived from the Chemainus ethos.

Lompoc's Art Alley and Sheffield's Mural Fest encourage painting other than historically derived but remain with the outdoors, whilst others work indoors on canvas. Several towns now emulate Lindsay's pioneering of window painting for vacant downtown stores to minimise any derelict feel. Ely has totally restored a disused Richfield Gas Station on the edge of town.

But of course altogether 'other arts' are emboldened. Chemainus had perforce to design and build its own Arts Supper Theatre. Others such as Moosejaw and Ely had a fine old theatre available. In Foxton the theatre has become a National Museum for the Visual Arts and in Kati Kati plans are mooted that would show old movies as a focus. Prestoungrange is using its venue to stage Fringe Plays to coincide with the famed Edinburgh Festival 10 miles west of the town.

Several of these initiatives have involved restoration of fine period buildings of which The Prestoungrange Gothenburg in Scotland, as an arts and crafts building, is an outstanding example that has become the continuing Arts Festival's 'caput', an art gallery/ exhibition centre and the venue for a multitude of arts-inclined events each year. Indeed, all the architectural heritage of any mural town is very much public art waiting to be interpreted and shared, as are many of its old monuments and memorials that are increasingly incorporated in the 'tours and trails' booklets produced – this is readily to be seen from Foxton and Prestonpans. Vernon and Lompoc both drive their programs forward from architectural gems of premises lovingly restored.

29 Palms is an exemplar of music as an outgrowth of its murals initiatives. The Gala Dinner in the Joshua Tree National Park, in full moon with concert pianos and mobile generators, with platinum, gold and silver packages and stretch limos from Palms Springs sets a cracking pace. Many others have less spectacular but nonetheless wholly effective concerts in churches and outdoors and Prestonpans has lately scheduled the World Premier of the World's 1st Bagpipe Opera together with countless jazz and folk group sessions at its caput.

The discussants at Kati Kati on September 21st are shown below at the Town's Resource Centre; a discussion that continued at scenic Matahui Lodge-cum-future-boutique-vineyard hosted by owners Trevor and Kay Mitchell on the edge of town and again with Nancy and Ken Merriman at the Kati Kati Heritage Museum.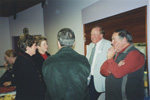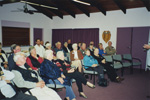 Sustainable Funding and Repeat Visiting

The exemplar of the Chemainus Arts Festival Theatre and the Prestoungrange Gothenburg as ways of generating repeat visits has not been lost on the other murals town's leaders. Once beautification of a township has been realised by murals, most take a keen interest in how the visitors attracted assist the economic development of the community at large. But if the attraction was solely the murals, the propensity to return again and again is low. Certainly one will bring one's own visitors for a day out, but a murals town per se is not a 'repeat visit' destination. However the addition of a theatre with a changing repertoire, or an events venue that is continuously offering attractive activities at the location against the murals backdrop – these certainly invite frequent and return visiting. The Prestoungrange Gothenburg has even gone so far as to introduce a Loyalty Card earning GothPoints for all who join its Arts Festival Charity.

Significantly in both the above examples, in the instances of concerts, the spa/ casino and theatre in Moosejaw and the annual gala in 29 Palms, all have the opportunity to be self-financing. The cycle of feast and famine that bedevils so many voluntary activities can be broken by careful thought and deliberate planning.

Ely has also pioneered a unique way for making more than one visit to a mural town – each year they coincide school reunion meetings with a Living Murals Program, where the characters in the mural come to life and enact a playlet. Others are already emulating that initiative. Kati Kati's 'Living' Museum educates school children and bemuses their elders as they wash and spin dry 1940's style, operate historic telephone exchanges, cook on old kitchen ranges and the rest.

Beyond the Arts Catalyst

For those towns that have entertained murals not only for their beautification impact but also for their role in socio-economic regeneration, it is clear that 'murals success' can bring about a more enterprising approach in toto. The can-do mentality is potentially infectious. There can be no more spectacular instance of this than Foxton's 17th Century Dutch Windmill opened in April 2003 by New Zealand's Governor General and the Dutch Ambassador in tandem. It is now milling flour for sale and welcoming 50,000 x $4 fee paying visitors each year. In Ely the recently closed JC Penny store has been purchased by a syndicate of local businessmen to reopen as a community led enterprise shortly. In Prestonpans the original brewers from 1745/ 1962 have been honoured by the opening of a microbrewery to make real ales and plans are afoot to revive the town's formerly famous salt panning and oyster farming as well as its pottery.

Published Date: September 20th 2004