Foxton New Zealand leads as Miller!
Murals plus 'de Molen' make Foxton Very Exceptional

Foxton's Main Street lies one block off New Zealand's Highway 1 that runs from Palmerston North to the capital Wellington. At that point the west coast of North Island is flat as the Nederlands being the flood plain of the mighty Manawatu River draining to the ocean from the inland Tararu mountain range. Until 1943 the river ran directly by the town and it acted as a significant port for all manner of coastal and inland trade during the settlement of the Manawatu district. A railway which closed in 1959 linked the town to the provincial centre at Palmerston North. Local agriculture very much included flax growing with an associated rope industry.

Today the former riverfront looks over an oxbow lake, going nowhere. Until Ivan George and fellow Rotarians initiated murals a decade ago passers by on Highway 1 had little cause to pause except for a meal or an overnight stop at one of the good motels or en route to a side trip on Foxton Beach where the river reaches the ocean some 5 km downstream.

Ivan George had chanced to visit Sheffield in Tasmania on his travels and, without saying a word to the Tassies who wrought that town's murals miracle, concluded that what was good for Sheffield could be good for Foxton. No visit to Mecca or Chemainus was required. Ivan first convinced fellow Rotarians and then the Town Council, and painting began. Twelve years on there are more than 30, most concentrated in the immediate downtown and well susceptible to a walking tour which quickly yielded the pictures below. For the comprehensive collection there is an excellent picture book available at $12 selling well, and a community 'tourism' website is scheduled to carry them all shortly as well. Interestingly, the book also includes an extensive selection of photographs of old buildings in the town.

Click on all images to enlarge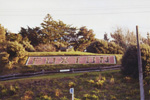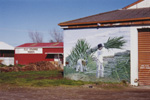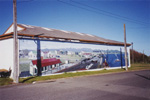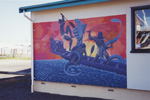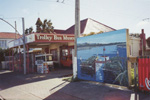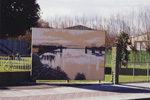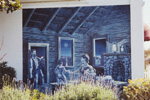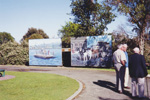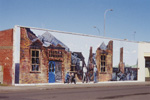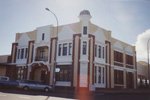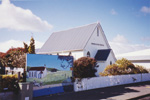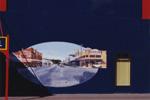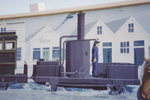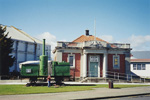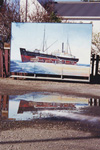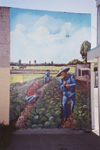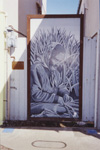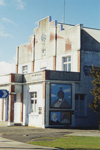 Tulips became the Windmill – 'de Molen'

In the nineteen eighties there happened to be two Dutchmen living in Foxton and business talk got around to plans to grow tulips commercially, as one is assured is customary. It never happened and the first Dutchman left town to grow tulips elsewhere. But as he departed he left behind plans for a Dutch windmill with his friend, John Langen, as one is assured all departing Dutchmen normally do. And as the recipient of this largesse, John determined way back in 1990 that it would be rather a good idea to build one, right there in the town centre of Foxton. After all there is plenty of wind most of the year, the countryside looked like the Nederlands and he had the plans – 17th century plans one must not forget to add. Perhaps most extraordinarily, the redoubtable people of Foxton [after reassurance about sail noise] agreed and the local Council made the land available. Cor Slobbe of Foxton Beach led the local volunteers using predominantly New Zealand timber through all the construction stages.

In 2000 the Dutch Ambassador laid the foundation stone, the Dutch Government donated genuine Dutch millstones, local volunteers guided and aided by Dutch engineers built the mill, and in 2003 as a fully operational mill its sails began to turn and its flour went on sale. GO www.windmill.org.nz

By September 2004 some 85,000 visitors have already travelled to Foxton to gasp in amazement at the windmill and to ask: "Why here?" … and to hear the explanation carefully reported above…. and then themselves to be asked: "Why not here?"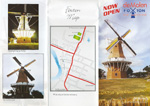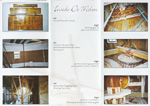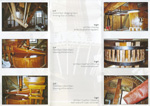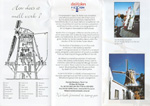 Indeed, why not? Its obviously enormous fun, its a source of gigantic civic pride and it brings coach-loads of visitors that one block west off Highway 1. The café and souvenir shop are feeling their way forward, the $800,000 cash outgoings have all been paid off and the flour is beginning to find its appropriate markets. But that latter aspect, marketing and selling the flour, is still clearly to be professionally addressed. As is so frequently the case, the driving force was to create [art or windmills no matter]. Creation is truly worthy simply for its own sake. But maintenance economics and visitor services demand just as much creativity if the art concerned or the windmills built are to be sustained.

And as if a windmill is not enough of a star attraction, the town boasts myriad other intriguing facilities including a Dolls' Gallery, Flax Stripper Museum, Museum of Foxton History, the National Museum of Visual Arts and Sciences, an historic printing works, a trolley bus museum and local road-routing, a London double-decker bus and a horse drawn tram.

As President of the Foxton Murals Committee, Ivan George promised to talk with his colleagues to encourage them to join the Global Association and to plan to share their achievements with other members in Bowen [2005], Prestoungrange Scotland [2006] and Sheffield their original inspiration in 2008.

Ivan George together with John Langen, President Foxton Windmill Trust, are pictured below atop de Molen.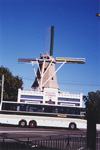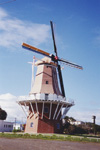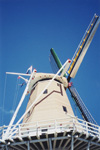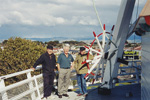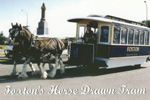 Published Date: September 19th 2004