Lompoc - City of Murals in the Valley of Flowers
Lompoc ..…. y El Camino Real

What a Mediterranean coastline. From Los Angeles to San Francisco it stretches for well over 600 miles with the Coastal Range dipping in and out of the Pacific ocean presenting here a pocket beach and there enough flat land to craft a city to stand at its feet. It was no surprise to learn that the First Nation Indians had found it much to their liking or that missionaries from Mexico had made their way north to bring their faith, build their churches and accord the names of Santas to their missions and their successor towns. Nor was it a surprise to find the great and not necessarily good from Hollywood had made their way there as a playground or just a pit stop en route to the legendary Hearst Castle in the golden years. Route 101, sometimes also dubbed 1, took us half the distance along El Camino Real from LAX to as far north as Santa Maria to explore and lodge at its historic Inn built nearly 100 years earlier and wrestling today with local motelliers the consequences of the city bypass in search of a sustainable continuing purpose that honours its founding McColl and its historical identity – this after a short term closure and subsequent restoration by local entrepreneurs. [Echoes and inspiration here for our own Prestoungrange Gothenburg in far away Scotland and Ely's former JC Penny store.]

But the purpose of the journey along El Camino Real, notwithstanding the leisured pavement Salade Niçoise with a glass of regional sauvignon blanc in Santa Barbara after visiting its magnificent Old Mission [itself survivor of two earthquakes] and imbibing the ubiquitous Spanish architecture, oleander and bougainvillea, and the beckoning invitations to Oktoberfest and Candlelight Concerts – was a visit to Lompoc.

Close by the Ventura air force base, Lompoc has a downtown astride a railroad. Rumour told us it was once the world mustard capital and began life as a temperance town. [Echoes again for our Gothenburg and future inspiration for a mural.] Lompoc has been represented at all the Global Conferences and Regional Seminars, and most lately in Ely Nevada had told of its recent further successes. We approached it along a precipitous mountain side road with, alas, more floral roadside tributes to lives lost there than anyone could have wished to see, passing Lompoc Field as we descended to the floor of a valley tucked in the Coastal Range. And our first impression was of new suburban house building then an extensive main street with busy shops and new malls. Surely this was not a typical small town with a challenge to be addressed with the Chemainus murals tonic prescribed by Dr Schutz?

But we continued to deepest downtown, and there we could see the challenge. It was not a town in comprehensive decline but its original center had most certainly offered the challenge murals had addressed. The church next to a fine avenue of Cypress trees stood in an area of old buildings and a cleared landscape close to the historic home of the Chamber of Commerce.

Click on all pictures to enlarge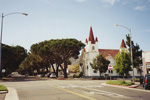 Friday's Market and Art Alley

It was Sunday not Friday, so we could easily park and stroll along Art Alley for which Lompoc holds global renown as pictured below. More than 25 outdoor works are on display at any time with some offered for sale.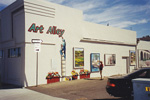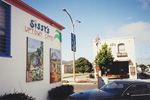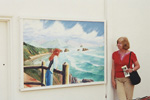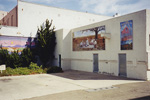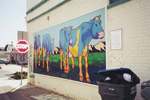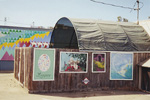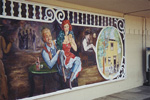 We soon also caught our first glimpses of some of the town's fabled Murals in a Day – 13 annual events already and still counting. And every lamp post told of the significance of Friday as Market Day.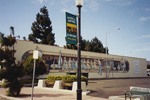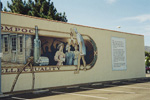 Murals in the Community

It was difficult although not impossible to envisage the downtown area as one that just a decade before had cried out for a murals program. Their effectiveness is everywhere apparent. And they have clearly captured no end of the community's history in more than a score of works starting perhaps most importantly with its temperance tale [told above]. Another honours the mining of diatomaceous earth from one of the world's finest sources locally and a cluster of five more on the Great Floral Flag remembering the World War II's salute in 1942 by Bodger Seeds, the flora and fauna, the early flower industry, the 50th Anniversary of Lompoc's Flower Festival and the Flowers of the Valley series painted on a row of garage doors. This last mural sequence stands opposite An Artist's Cottage, where the Lompoc Valley Art Association has transformed a cinder block nondescript building into a Victorian cottage as depicted below which they use as the Cypress Gallery.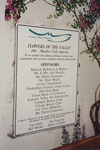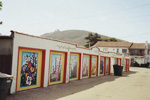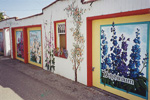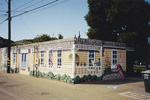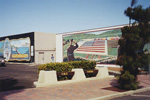 Knowing the pioneering role of Lompoc for the Mural-in-a-Day program, it was a predictable pleasure to see Art[hur] Mortimer's name so frequently present; but also particularly noteworthy was the extent of local artistry led by Vicki Andersen with Leonardo Numez [both solo and also with High School children depicting Latina Esprescion], Carol Oliveira, Linda Gooch, Pat & Robert Saul, Shirley Wallace, Lori Slater and the combo-mural from the Art Association known as Mural Walk.

City of Murals in the Valley of Flowers

Lompoc's descriptor is much more than apposite; its elegance is reflected in the success of the downtown program. The murals and the public art at large surely delight local residents, provide a delightful backdrop for the Friday market and lure visitors the town would otherwise never see.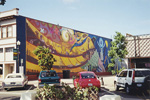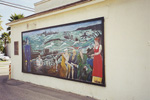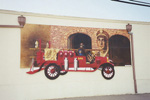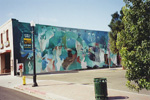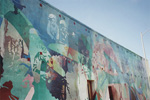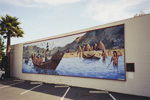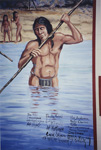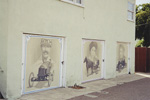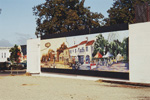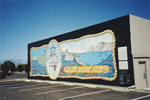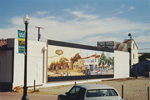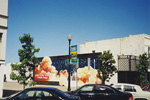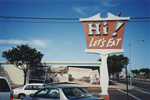 Published Date: September 12th 2004