'Where the World Met and Became One'
5th Global Murals Conference @ Ely, Nevada, August 25th - 28th 2004

Ely Renaissance Society adopted their descriptor when they took up the challenge in 1999 to beautify this desert city under the co-Chairmanship of Virginia Terry and Margaret Miller Bath. And it most certainly lived up to it as host to the Global Associationís 5th Biennial Conference.

Click on all images throughout to enlarge them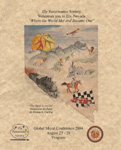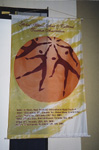 Over 100 Members and Guests of the Association gathered in the outstanding Bristlecone Convention Center, and were accommodated mainly in the Jail House Motel or the Hotel Nevada - replete with their casino halls. The brothels, which delegates visited during the evening walking tour, were some five blocks away.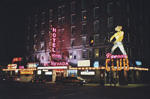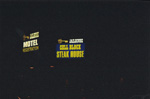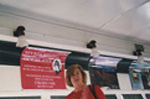 Lorraine Clark [pictured first below] led the Ely organising team and together they kept all attending fruitfully occupied and socially refreshed. Typical 'western' culinary features were a chuck wagon barbecue, a Basque Dutch oven supper and a Greek luncheon. The evening entertainment included Shoshone Indian Dancing, a shoot out of politicians with Western Cattlemen and Will James' cowboy tale 'Mural Coming to Life'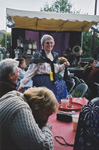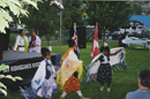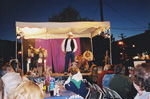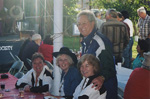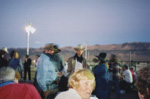 Comprehensive Program for All

The speakers and the workshops had something for everyone; and the artists' personal exhibitions of works were excellent displays including Bernie Jestrabek-Hart's barbed wire sculptures and plenty more familiar art forms. Several artists including Art Mortimer, John Pugh, Roger Cooke, Don Gray, Vicki Anderson and John Ton led discussions on mural creation and preservation. Sarah Sweetwater introduced the, unusual for most, art of labyrinths both in theory and on the ground in front of the latest Ely sculpture in steel as shown below.

What was experienced together was so very well represented in the beautiful necklace we each received at registration made by Laura Rainey Carpenter from hair pipe and bone beads. It's full circle of life used the four colours representing north, south, east and west.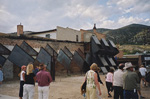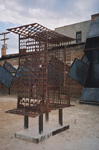 City Progress Reports from Far and Wide

As always, a thoroughly enjoyable and highly informative series of Progress Reports was provided from many cities present. Moosejaw and Lindsay, hosts respectively to the 4th Global Conference in 2002 and the California Regional Seminar in 2003, had much to tell as did Lompoc, 29 Palms, Sheffield Tasmania and Canadian Mural Routes.

New ideas abound -both artistic per se and as direct triggers or engines for economic development. At the bizarre end of the spectrum was 'kicking curry cartons along the street' and at the other the success in Lindsay of monthly Farmers' Markets in that city's new square. Laurel and Hardy's 'intervention' seating mural was introduced as were 'movable muralsí and 'lamp post hanging murals'. Sheffield's Annual Mural Fest and Hall of Fame in the town square was noted by more than a few. Moosejaw reminded us that old industries can be un-capped as with its Chinese workers' hideaway tunnels, its Spa waters and its trolly bus tours. Prestoungrange added its now flourishing Fowler's brewery, putative salt panning and Pandores oysters to that list.

Lompoc in its turn reminded us that it began life as a temperance city but became the Mustard Capital of the World. Its murals programs pioneered Mural-in-a-Day now reaching its 13th year and the 'Art and Sculpture Alley'. One strategy for its funding saw rounding up of local utility bills; others reported voluntary parking meters for the Arts. Vernon described major Youth painting programs which attracted generous federal dollars.

Mural Fun-Runs with handicapping for diverse classes of contestants are in train. Canadian Murals Routes offers the scope for a car journey right across the country, town by town, from its subscriber website. And 29 Palms reported how its 'Gala Full Moon Dinners' with platinum, gold and silver plate packages in the Joshua Tree National Park, now draw massive crowds ... and pianists.. to the open air. Ray Kinsman concluded: "we are limited only by our own imaginations" ... which Vale Oregon and Ely confirmed as they invited us to add hot liquid to their souvenir mugs and lo ... murals appear by magic!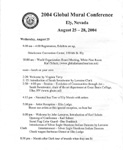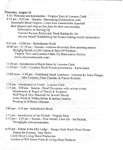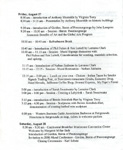 Academic Words on Offer

Several presentations were from scholars and academics in their fields, who offered detailed research findings and conclusions. Sarah Sweetwater, Dean of Arts at Great Basin College, Elko, NV, spoke of Art as a powerful vehicle for community development whilst Prestoungrange, a lifelong Business School professor, looked directly at processes of economic re-development and sustainable re-generation, building from a recent global literature review undertaken in Scotland. He also circulated a questionnaire to gather intelligence from the many cities in the Association, which will be analaysed and reported on prior to the 2006 Conference, and discussed further thereat.

Jo Pachak also gave an amply illustrated and erudite talk on 'First Murals and Cave Art' in the region, including his interpretation of the symbolism used.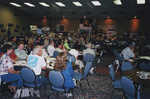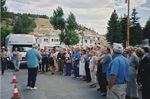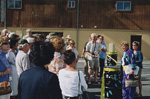 Murals Tour Around Ely

An outstanding feature of the Conference was the interpretive tours of the City's murals, both by day and after dark when illuminated. Frequently the artists were on hand to explain and discuss their work.

Jo Pachak's sculpture of a proud Shoshone Indian Lady was of especial note and he told of the support he had received from the elders in the First Nation community. Wei Luan explained the making of his Liberty Copper Mine mural. Another work captures July 4th Celebrations in town, of particular note because so many of the early immigrants came in search of promised citizenship. The Italian built Charcoal Smelters for the early copper deposits were visible both as a mural and in their restored state in a nearby State Park. Hotel Nevada made clever use of its kitchen ventilation shaft in its steam locomotive; Pony Express rides alongside the telegraph poles soon to replace it; and an old advertisement has been reinstated.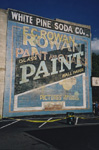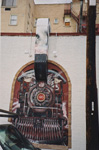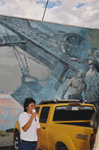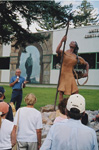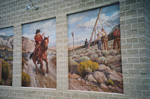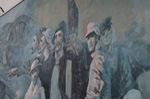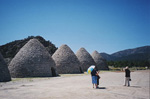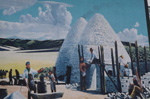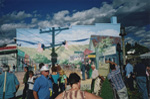 COMP and R-Brands

Anthony Ithurralde took us all on an early morning tour of some fine downtown architecture. First stop was the Hotel Nevada which for a short while after it opened was the tallest building in Nevada. Then a close and envious look at the old theatre crying out for interior restoration where all but the seating is still as it was. And of perhaps even greater impact were the plans for the old JC Penny store. Here Renaissance Investors of Ely, called the Community Ownership Mercantile Project or COMP, have already raised close on $500,000 to reopen as Garnet Mercantile Department Store by 2005.

A further intriguing aspect of Ely, which they readily attribute to exemplars seen in Lindsay just 12 months earlier at the Regional Murals Seminar, has been the presentation of dis-used downtown buildings through art as 'alive and well'. Windows and artefacts are painted to convey just such an impression, with fine examples illustrated below most particularly the Richfield Gas Station.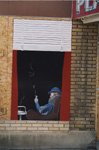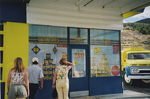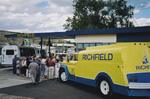 Networking, Farewells and Ever Onward

Global Conferences are very much about making new acquaintances, but also renewing the old, and about looking forward at least two years! And since the Association's determination in Moosejaw in 2002, we can all now look as far as four years ahead.

It was John Dyer's first personal visit from Sheffield Tasmania which it was agreed will be hosting the 7th Conference in 2008, but for the team from Prestoungrange that hosts 2006 in Scotland it was their third learning adventure in North America. Fedex delivered [just-in-time] their brochures and registration forms for the 6th Conference which also include the inaugural Willie Park Golf Cup Competition for the Association to be held at the Royal Musselburgh Course in Prestonpans - and thereafter in each convening city.

Judging by all the promises and commitments already made, there will be a large participation in Scotland in 2006 for the 6th Global Conference, hopefully with attendances to match those so magnificently regaled in Ely by its Renaissance Society.

Dr. Karl Schutz, President and Founder of the Association from Chemainus, who was of course present throughout, reflected everyone's deepest gratitude and appreciation for Ely's presentation of the 5th Global Conference in his closing comments as the banner was passed on to Prestoungrange. What had been foretold in the Ely Times a week earlier had indeed come to pass.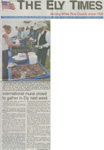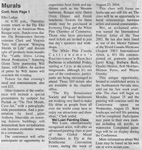 Published Date: August 29th 2004