Exhibition 2007 of Prestonpans Pottery
The Arts Festival appointed Graeme Cruickshank as curator for the 2007 Exhibition in 2004 and he spent the interim years researching the archives and references as well as tracking private collections. He has also produced the definitive book on Prestonpans Pottery with 290 pages in full colour ĘC on sale here at this site.
View the Prestonpans Pottery Exhibition 2007
The pictures below show the Road Show week for private collectors followed by the events at the Exhibition itself. The Catalogue of all items on display is also given below.
N.B. You should click on all images and press cuttings to enlarge
Road Show
The 2007 Exhibition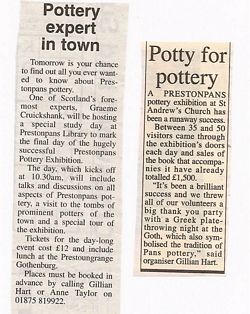 The images below show the final celebration where the volunteers who helped stage the Exhibition held a Greek Plate Throwing Party at The Prestoungrange Gothenburg car park, the site of the old Belfield Potteries, lobbing cracked plates provided by Sam Burns Yard in town through Boles onto the beach below - as had been common practice for Belfields!
The Definitive Book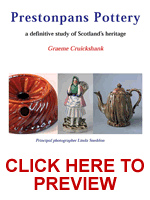 For a full index of images please view the Prestonpans Pottery Exhibition 2007 virtual gallery